Northpointe Bank is offering a $50 new UltimateAccount bonus with a simple $100 initial deposit within 30 days of account opening.
Plus, you can earn a 5% APY on balances of up to $5,000 when you meet the qualifications during each statement period.
Northpointe Bank is based in Grand Rapids, Michigan, but anybody in the U.S.A. can open a new account with them online to earn this $50 bonus.

Updated 3/7/2017: The $50 bonus for opening a Northpointe Bank UltimateAccount will end on March 31, 2017, and will no longer be available going forward. Any new account applications received on or prior to 3/31/2017 will continue to be monitored for bonus payment qualification through 4/30/2017, so this is your last chance to apply and earn a $50 bonus. Northpointe Bank will continue to offer the 5% rate, but in order to do so, they will need to eliminate the $50 new account bonus.
Updated 9/9/2016: Please note that Northpointe Bank has implemented a new application process that is much easier to complete. The new application is also shorter, allows for credit/debit card funding (up to $100) as well as ACH funding (up to $1,000), and it is mobile friendly.
How To Qualify for $50 Northpointe Bank Bonus
1. Open a new Northpointe Bank UltimateAccount through this promotional link.
2. The Promotional Code "MaxMoney" will automatically be applied for you at account opening.
3. Make an initial deposit of at least $100 via an ACH transfer or credit/debit card funding within 30 days of account opening to qualify for the $50 bonus.
Promotional Details
Your $50 bonus will be paid within 30 days of your initial funding deposit.
The bonus is limited to 1 offer per household.
You must maintain your account for 120 days, or your $50 bonus will be forfeited upon account closing.
If you've been paid an UltimateAccount bonus within the past 365 days, you are not eligible for this $50 bonus offer.
Earn 5% APY from Northpointe Bank UltimateAccount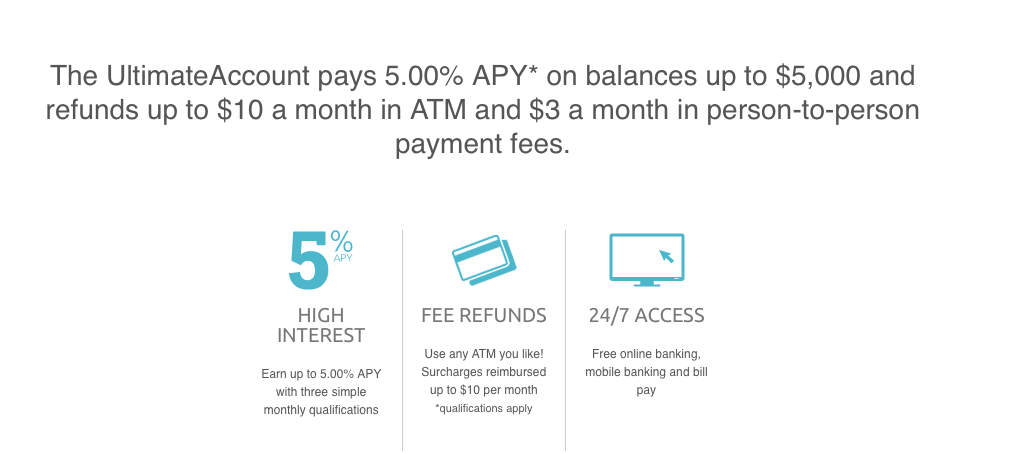 You'll get a 5% APY on balances of up to $5,000 if you meet the following monthly requirements:
Enroll in eStatements.
Make 15 debit card purchases for a minimum total of $500.
Make $100 in direct deposits or automatic withdrawals.
Any amount of your balance over $5,000 will only earn a .10% APY.
You'll also receive ATM refunds of up to $10 per month and person-to-person payment refunds of up to $3 per month when you meet the above requirements.
About Northpointe Bank UltimateAccount
There are no monthly fees for this account if it remains active.
There is a $5 monthly fee after 12 months of inactivity.
Earn a 5% APY on balances of up to $5,000.
Get ATM refunds for up to $10 per month.
Get person-to-person payment fee refunds for up to $3 per month.
Free online banking.
Free mobile banking.
Free bill pay.
$100 minimum deposit required to open account.
No minimum balance requirement to maintain account or avoid fees.
Take advantage of this offer from Northpointe Bank to get a $50 new account bonus and earn a 5% APY on balances of up to $5,000.
A special thank you goes out to Doctor of Credit for posting about this offer when there was a $100 bonus available. Please note that the $100 bonus is no longer available at this time through any website and has been replaced with the standard $50 offer. If Northpointe Bank gives Maximizing Money the opportunity to offer a higher bonus in the future, we will be sure to post about it.