PNC Bank is offering a $200 personal checking account bonus when you open a PNC checking account with Virtual Wallet or other qualifying checking accounts through March 31, 2014.
This PNC Bank offer is only available to residents of AL, DC, DE, FL, GA, IL, IN, KY, MD, MI, MO, NC, NJ, NY, OH, PA, SC, VA and WI.
Just open a PNC checking account with a qualifying direct deposit and complete 1 payment via PNC Online Bill Pay within 60 days of account opening to receive a $200 banking bonus.
Check out this $200 PNC Personal Checking Bonus to open your PNC checking account online today.
PNC Bank Checking Promotional Details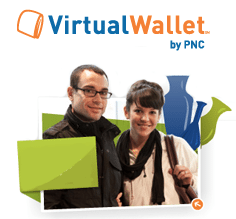 To qualify for the $200 reward, you must meet the following requirements:
1. A new personal checking account must be opened online via the above promotional link or at a branch using the coupon code that you receive via email upon request.
2. Complete 1 payment via PNC Online Bill Pay within 60 days.
3. Qualifying direct deposits totaling at least $2,000 must be received within 60 days.
Your checking account must remain open in order for you to receive the $200 reward, which will be credited to the eligible account within 60 days after all conditions have been met.
A qualifying direct deposit is defined as a recurring direct deposit of a paycheck, pension, Social Security, or other regular monthly income electronically deposited by an employer or an outside agency into a Performance or Performance Select Checking Account, or the Spend Account of a Virtual Wallet with Performance Spend.
The total amount of all qualifying direct deposits credited to your checking account must be at least $2,000.
Credit card cash advance transfers, transfers from one account to another, or deposits made at a branch or ATM do not qualify as qualifying direct deposits.
This offer is only available to new PNC Bank checking account customers who open an eligible account using the online application.
Your new account will not be eligible for the offer if any signer has signing authority on an existing PNC Bank consumer checking account, has closed an account within the past 90 days, or has been paid a promotional premium in the past 12 months.
If multiple accounts are opened with the same signers, only 1 account will be eligible for the premium.
Take advantage of this PNC Bank bonus to earn a $200 cash reward with a new PNC personal checking account.
Review these additional Bank Bonus Offers as well for more national and local banking promotions.
Open your PNC checking account online today to qualify for this personal checking account bonus.