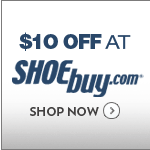 Shoebuy.com is offering a $10 discount off your first purchase of $50 or more for new customers, plus you can earn a $10 bonus credit from Shoebuy.com for new customer referrals.
Just click through this Shoebuy $10 Discount Link to receive $10 off your first order of $50 or more, valid on all shoes, accessories, handbags, and apparel at Shoebuy.com.
Find out how to get Shoebuy Promotional Discounts and earn $10 referral bonuses from Shoebuy.com.