You can now register for your 2016 4th quarter Chase Freedom 5% cash rebate categories to get 5% back on up to $1,500 in purchases at Department Stores, Wholesale Clubs, and Drug Stores from October 1st to December 31, 2016.
If you have a Chase Freedom credit card, you must register for each new quarter in 2016 to receive the full 5% cash back rebates in select categories throughout the year.
Apply for the $175 Chase Freedom Card Bonus if you are not already a member to earn a $175 bonus after qualifying purchases with no annual fee.
You must Activate your Freedom Card for the 5% cash rebates each quarter.
You'll also earn a 1% cash rebate on all of your other card purchases at all times.
New 2016 Categories Announced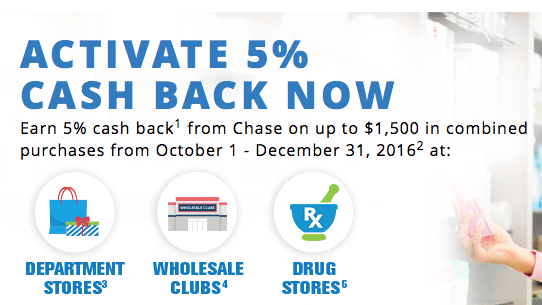 October 1, 2016 – December 31, 2016 – Registration Now Open
Department Stores
Wholesale Clubs
Drug Stores
Registration begins September 15, 2016, and ends on December 14, 2016.
5% Freedom Card Bonus Details
You will earn 5% cash back on all of the qualifying category purchases that you make for the duration of each entire quarter (up to $1,500), regardless of when you activate your card during that quarter, just as long as you activate your card by the deadline for that quarter.
You will earn 4% bonus rebate rewards in addition to your 1% base earnings for a total of 5% in cash rebates within the promotional purchase categories.
The maximum 4% bonus reward accumulation during the promotional period is $60 in cash back rewards or 6,000 points, which is equal to $1,500 in net purchases.
At the total 5% special rate, you can earn $75 in cash rebates if you spend $1,500 within the select categories, plus you'll still earn 1% cash back on all of your other purchases.
Take advantage of these Chase Freedom 2016 5% cash rebate categories and make sure you register each quarter to ensure that you receive the full 5% rebate in select spending categories.
Register for your 2016 5% cash rebates with your Chase Freedom card.