The Square Cash App is offering a $5 referral bonus for both parties when a current Square Cash App user refers a new user who links a debit card and sends money for the first time.
You can now sign up using the referral code in this Square Cash App Referral Link to get a $5 bonus when you try the Square Cash App for the first time by sending at least $50.
Please note that you will need to connect a debit card to use Square Cash, so you may wish to consider a Chase Bank Checking Account ($200-$300 Bonus) or a Bee Prepaid Card ($10 Bonus).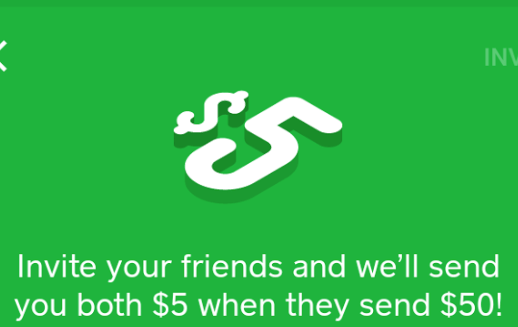 Square Cash lets you send money to and receive money from anyone with a registered phone number or email address via your linked debit card from your bank account.
If you are a new Square Cash App user, you can earn a $5 bonus when you receive a referral link from a current user, connect a debit card, and send $50.
Plus, once you become a Square Cash App user, you can refer your friends to earn a $5 bonus for each new user that you refer who connects a debit card and sends $50.
Updated 4/18/2017: The referral bonus has now been decreased from $10 to $5 for both users. The old $10 referral links may work when you click on them, but all of the actual user referral codes have been updated, so the old codes will no longer work when you enter them in the app. All of the referral links in this article will provide you with the newest $5 codes.
Where To Enter Square Cash Reward Code
1. After you download the Cash App, open the app and tap the settings icon at the top-left corner.
2. At the bottom of the settings page, tap the "Enter Reward Code" field.
3. Enter this Referral Code to apply your $5 bonus.
4. Once you've entered the Reward Code, you'll have 14 days to send $50, either as a lump sum or multiple payments.
5. Once you've sent your first $50 with Square Cash, you'll get a $5 bonus.
How To Get Square Cash App $5 Sign-Up Bonus
New Referral Link and Code Available: Just Download the app for iOS or Android and sign up with the provided referral code to get a $5 bonus after you send money for the first time ($50 minimum required).
If you would prefer to receive an email or text referral to earn $5 when you register the Square Cash App on your mobile phone and connect a debit card, please feel free to email me your smartphone number at MaximizingMoney@gmail.com, and I will be more than happy to send you a referral, so that we will both earn the $5 bonus.
You may also feel free to connect with other readers in the below comments and exchange Square Cash App referrals.
Square Cash App Referral Program Details
You must have the Square Cash App on your mobile device to access the referral program.
Once you have opened the Square Cash App, just visit the "Invite Friends" link, where you can enter your friend's phone numbers to send them a referral.
When your referrals download the Square Cash App, connect a debit card, and send $50 or more, you will both earn a $5 bonus credit.
It looks like you can refer as many friends as you like, and there is no limit to the amount of $5 referral bonuses that you can earn.
Referrals must be sent via your phone, as you cannot refer people from your online account.
A special thank you goes out to donnierobs for posting about this offer in Reddit Beermoney.
Please feel free to exchange contact information for Square Cash referrals in the below comments.
You can also exchange referrals with other readers over at Doctor Of Credit.