National Doughnut Day is Friday, June 3, 2016, and many sweet shops are offering free doughnuts to customers.
Whether you like to eat doughnuts or donuts, they all taste better when they're free, so take advantage of National Doughnut Day to get a free doughnut at participating restaurants.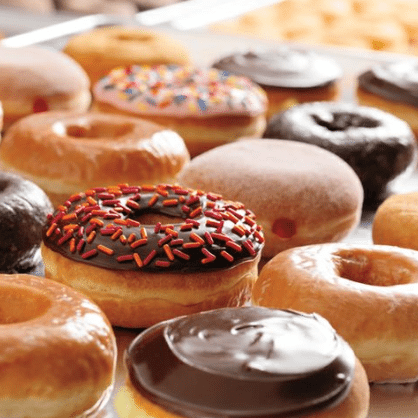 Free Donut Offers on National Doughnut Day
1. Dunkin' Donuts Free Donut Day – Dunkin' Donuts treats guests to a free donut with the purchase of any beverage.
2. LaMar's Donuts Free Donut Day – LaMar's Donuts offers a free gourmet donut with a hole, and no purchase is required.
3. Krispy Kreme Free Doughnut Day – Krispy Kreme offers a free donut of any variety with no purchase necessary (available in the U.S., Canada and around the world, but excludes Connecticut).
4. Shipley Do-Nuts Free Donut Day – Get 1 free glazed do-nut at participating Shipley Do-Nuts locations from 5 AM to 12 PM with no purchase necessary.
5. Cumberland Farms Free Donut Offer – Visit any of the newly remodeled Cumberland Farms stores to get a free donut with the purchase of a Farmhouse Blend coffee or Chill Zone frozen beverage from 5 AM to 10 AM. Use the Cumberland Farms Store Finder to locate a newly remodeled store. Stores are located in the following states: Massachusetts, Connecticut, New Hampshire, Maine, Vermont, Rhode Island, Florida, and New York.
6. Tim Hortons Free Donut Day Offer – Enjoy a 6-pack of donuts for $2.99 with this coupon. Offer valid at participating Tim Hortons Cafe and Bake Shop locations. Find your local Tim Hortons Restaurants to get your free donut.
7. Honey Dew Donuts – Honey Dew will give away a free (UP)BEAT CANCER CHOCOLATE FROSTED DONUT with the purchase any medium drink or larger. Honey Dew is the largest locally-owned donut and coffee franchise in New England.
8. Entenmann's National Donut Day Sweepstakes – Enter for the chance to win a year's supply of free donuts from Entenmann's.
Take advantage of National Doughnut Day to get a free doughnut without the dough.
D'oh…n't miss this opportunity to get your free doughnut on Friday, June 3, 2016.
Enjoy free doughnut day, and if you know of any other restaurants that are offering freebies for National Doughnut Day, please feel free to leave a comment below this article telling us where to go.
Get your free doughnuts to help celebrate National Doughnut Day, the most honorable of our national holidays.