Take advantage of eBay coupon codes to get special discounts on select purchases of items sold on eBay.com.
Right now, you can use eBay Coupon Code CGAMEDAY10 to get 10% off the purchase price ($100 maximum discount) of TVs, Sports Gear, and more with a minimum $200 purchase through January 16, 2017.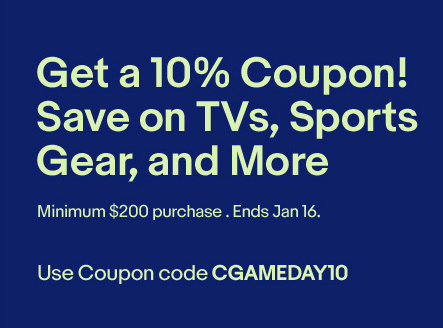 How To Redeem eBay Coupon Codes
1. Shop for eligible items on eBay and add them to your cart.
2. Pay for your items with PayPal or another qualified payment method.
3. Enter the Coupon Code in the Redemption Code field during checkout.
4. The eBay promotional discount will be applied as a discount off qualifying items, excluding shipping, handling, and taxes.
Coupon can be used once per PayPal account within a single transaction (or cart), while supplies last.
Only eBay members paying with a PayPal account (or other method if accepted), registered with an address located in the United States or Canada, can receive the discount.
All coupons cannot be combined with another coupon or used when paying with an eBay Gift Card.
Terms for 10% Off Promotional Code CGAMEDAY10
You can apply the eBay Coupon Code CGAMEDAY10 for a 10% discount off qualifying items until 11:59:59 PM Pacific Time on January 16, 2017.
You must make a minimum purchase of $200 of qualifying items to be eligible for this coupon.
The discount will be applied to qualifying items only and will be capped at a value of $100.
A qualifying item is defined as items purchased from within the following 3 categories:
TV, Video, and Home Audio.
Sports Memorabilia, Cards, and Fan Shop.
Tickets and Experiences.
Take advantage of this eBay coupon for a 10% discount off TVs, Sports Gear, and more for a limited time.
This page will be updated with new eBay coupon codes and eBay discount promotions as they become available in the future.