Priceline.com offers incredible airline ticket discounts for cheap round-trip and one-way flights between major cities throughout the U.S. and around the world.
Get huge Airfare Deals at Priceline.com, plus get the Priceline.com Best Price Guarantee on all domestic and international airline ticket prices.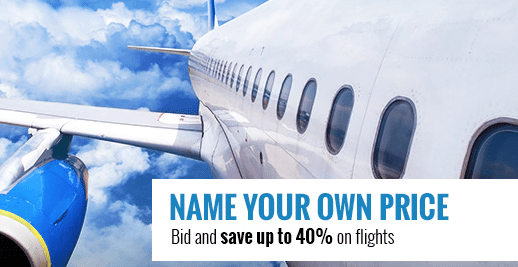 Name Your Own Price on Airline Tickets
When you use Priceline's Name Your Own Price tool, you can bid on your airline ticket and save up to 40% on flights.
You simply choose the price that you want to pay and select your airport location to find the cheapest and best flight for you.
You can save up to 50% on last-minute flights when you use the Name Your Own Price tool within 7 days of your departure.
Priceline.com Best Price Guarantee
The Priceline.com Best Price Guarantee applies to every Air, Hotel, Rental Car, Cruise and Vacation Package reservation sold on Priceline.com.
If you find a lower price that is available to the general public for the exact same itinerary, Priceline will refund you 100% of the difference (200% of the difference when you book an Express Deal).
With Express Deals or Name Your Own Price ticket purchases, you have up until Midnight the day before you travel to initiate a Best Price Guarantee claim with Priceline.
You simply call them up, tell them where you saw the lower price, and they'll verify the price and availability to give you instant satisfaction.
Priceline Vacation Package Savings
If you plan on staying at a hotel or renting a car after your flight, then you can save even more money with Priceline Vacation Packages.
Whether you're looking for a flight/hotel package or a flight/hotel/car package, you'll get bigger savings when you combine your travel needs into a single vacation package with Priceline.
Take advantage of these airline discounts for huge savings on airfare at Priceline.com.
You may also be interested in the Priceline Rewards Credit Card for even more savings and special rewards if you plan to frequently book travel on Priceline.com.