TravelBank is a free business app available on iOS and Android that pays you to book flights and beat your travel budget.
You can use TravelBank to record your business travel expenses on-the-go, book airline tickets for your next business trip, and earn points for booking flights and beating your budget, which are redeemable for gift cards from Uber, Lyft, Airbnb, and Amazon in the TravelBank rewards store.
Make your business travel and expenses predictable with the TravelBank app, and instantly earn gift card rewards just by booking your flights with TravelBank.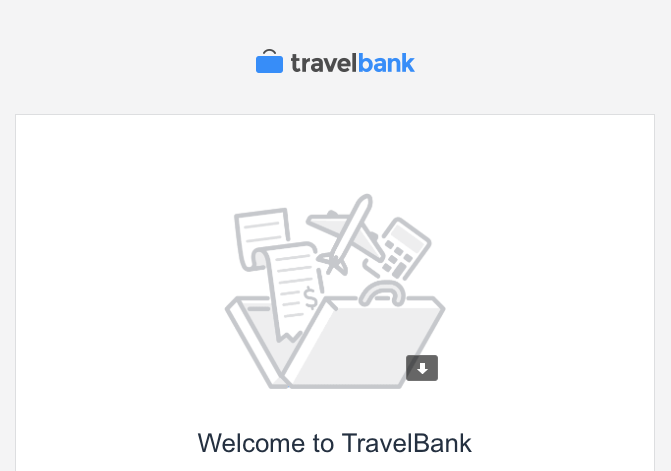 About TravelBank Business Travel App
TravelBank is Free to Download and Use – Available for iOS and Android Devices.
Track Your Expenses On-The-Go – Simply Snap Photos of Your Receipts, and TravelBank Fills in the Rest, so that you can Submit Your Expenses as a Report for Reimbursement when you are ready (get additional automation when you sync your business credit card).
Currency Conversion – TravelBank converts expenses in over 150 currencies to USD automatically for international travelers.
Book Flights – Book Your Next Business Trip and Earn Rewards on Each Flight. The TravelBank Flight Search is Powered with Social Seating, Curated Results, and 24/7 Support.
Curated Flights – Employees can access a curated flight bookings platform with special corporate rates for your business travel needs.
Social Seating – Customize Your Flight Search Results and Book Seats Based on Your Colleagues' Itineraries to Save You Time.
Earn Gift Card Rewards – Earn Points from Booking Flights and Beating Your Budget that can be Redeemed in the TravelBank Rewards Store toward Uber, Lyft, Airbnb, and Amazon Gift Cards.
WiFi and Power Indicators – Icons in the App indicate the Amenities that you will need to make your trip more productive and comfortable.
Concierge Tagging – TravelBank predicts the best suggestions for business travelers and learns your preferences to provide future recommendations that are tailored to your specific needs.
Run a Budget for Your Next Trip – The TravelBank Budgeting Tool predicts the cost of your next trip, so that you can get approval from your boss, and you'll earn extra rewards when you beat your budget.
24/7 Support – Receive 24/7 phone and email support, or chat with a TravelBank representative in the app from 7:00 AM to 7:00 PM CST.
Just visit TravelBank.com to download the free TravelBank business travel app and start earning rewards for booking flights and beating your budget today.
How To Earn Rewards with TravelBank
There are currently 2 different ways to earn rewards through the TravelBank app: Booking Flights and Beating Your Budget.
All of your TravelBank rewards earnings go into your Rewards Balance, which you can then redeem on services like Uber, Lyft, Airbnb, and Amazon Gift Cards.
Earn Rewards for Booking Flights
TravelBank rewards you for saving money on your trip when you spend less than the benchmark on your airline ticket price, so that you can save your company money and earn extra rewards for yourself.
For example, if the TravelBank Benchmark for a flight is $500, and you book a flight for $400, you will save $100 off the benchmark and earn $100 in rewards for yourself.
The TravelBank Benchmark is based on current price calculations for your exact itinerary from multiple ticket prices that are available at the time.
The cheaper the flight that you select, the more rewards that you will earn for yourself.
Earn Rewards for Beating Your Budget
You can create a budget before your next business trip to track expenses and earn rewards.
When you save money on your budget, your account will be credited with points, which you can then redeem for rewards.
The more money you are able to save on your budget, the bigger the rewards that you are able to earn from your business trip.
If you are looking for a way to manage your business travel expenses and save money on business trips, try out the free TravelBank app to earn rewards on all of your business travel.
You can also earn gift card bonuses with the Upside Business Travel Service and get special discounts on business flight and hotel packages.