The Farmers National Bank of Emlenton refer-a-friend promotion offers a $25 Gift Card bonus to both the referrer and referee for every new deposit account opened.
Farmers National Bank is headquartered in Pennsylvania with branches in Allegheny, Butler, Clarion, Clearfield, Crawford, Elk, Jefferson, Mercer, and Venango counties.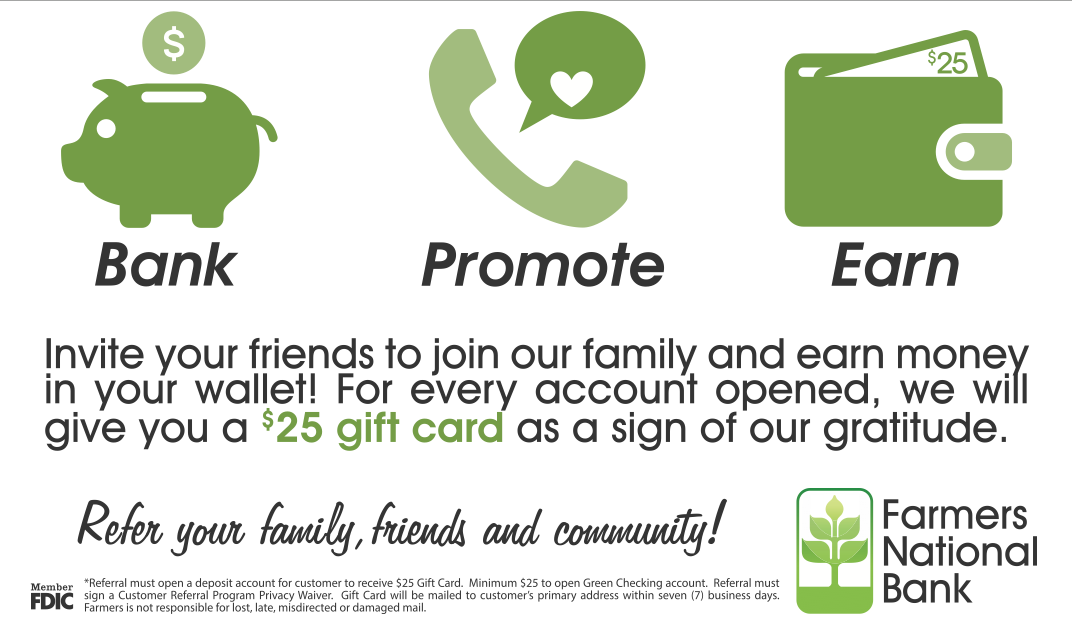 Farmers National Bank Referral Program
If you are a Farmers National Bank customer, you can refer anybody you want, and for every account opened, FNB will give both you and your referral a $25 Gift Card bonus.
You can either pick up Farmers National Bank Referral Cards at your local branch office or visit this Referral Page to print your Referral Cards.
Simply fill the cards out with your name, address, and phone number, and then provide your referees with a completed Referral Card.
When your referral opens an account at Farmers National Bank and provides the Referral Card, both the new customer and you will receive a $25 Gift Card.
Your referral must open a deposit account for both customers to receive a $25 Gift Card.
The $25 Gift Card will be mailed to both customer's primary address within 7 business days.
There is no limit to the amount of referral bonuses that you can earn.
Green Checking Account from Farmers National Bank
Minimum $25 deposit to open a Green Checking account.
No monthly service fee, but you must be enrolled in eStatements.
No minimum balance requirement.
Access to unlimited check writing.
Access to online Bill Pay service.
Free starter checks.
If you live near a Farmers National Bank in Pennsylvania and plan to open a new checking account, this is an easy way to share an extra $25 bonus with a friend or stranger, and you'll get access to an absolutely free checking account.
Please feel free to exchange Farmers National Bank referrals by providing your contact details in the comments below this article.