Hoot is a Next Generation Digital Bank Account, Smart Debit Card, and Artificial Intelligence Driven App all rolled into one that can help you achieve smarter spending and more dependable savings within your budget.
Plus, you can register now to receive a $5 discount off your Hoot Smart Debit Card once it becomes available for ordering later this year (pricing yet unknown), and you'll gain access to the Hoot Referral Program to earn up to $25 in bonus rewards for referring your friends and family to Hoot.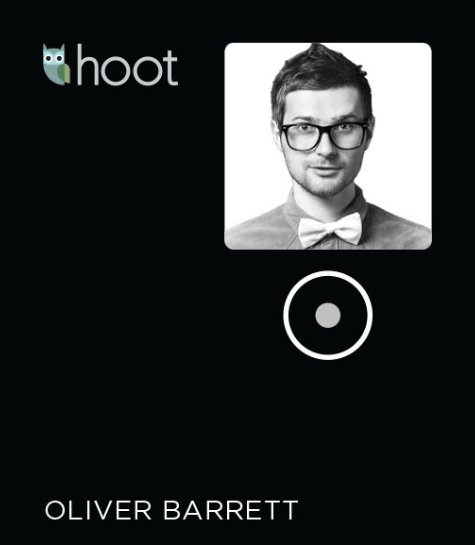 Hoot Bank Account and Smart Debit Card Features
Hoot Provides a Bank Account, Smart Debit Card, and AI Driven App in one package.
The Bluetooth-Enabled Debit Card Features a "Smart Screen" Canvas that can Dynamically Transform the Surface from Spending Insights and Account Balances to Personalized Images and Icons that Reflect Your Current Style or Mood.
The Hoot Mobile App Helps you Save Money Automatically from Anywhere and Easily Manage Your Savings.
You Can Categorize Your Transactions in Real-Time to Easily Search and Organize Your Expenses.
Hoot has No Monthly Account Maintenance Fees, No Overdraft Fees, and No ATM Fees at over 25,000 ATMs Nationwide.
Hoot Allows You to Deposit Checks, Transfer Money, Pay Bills, and Access Funds from Anywhere on Your Phone.
Hoot Accounts are FDIC-Insured up to $250,000.
Please note that although there are no monthly charges for maintaining a Hoot Bank account, there is a 1-time Hoot Card fee that you will be charged when you sign up for Hoot and order your Smart Debit Card. This fee has not been announced yet, and Hoot will finalize pricing for Hoot Cards later this year when they start shipments. This is a huge factor in whether or not this service will be worth while, so it would be nice if they made this information available sooner than later, but you can still sign up now to get a $5 discount off the Hoot Card when it eventually becomes available.
Hoot Card $5 Discount Offer
Anybody who signs up via this Hoot $5 Discount Link (provided directly by Hoot) will receive a $5 discount if you decide to order a Hoot Card when it is released later in 2017.
You won't see any information regarding the $5 discount on the landing page, but you should receive the $5 discount offer by email when they announce the official launch of Hoot in late 2017.
You'll also receive access to the Hoot Referral Program after you register your name and email address.
Hoot Referral Program up to $25 Bonuses
Anybody who registers now for Hoot will receive access to the Hoot Refer-A-Friend Program.
Through the Hoot Referral Program, you can share Hoot with your friends and earn up to $25 in total referral bonuses.
You'll receive a $5 bonus for each user that you refer who gets an account with Hoot, and you can refer up to 5 friends for a total of $25 in referral bonuses altogether.
Just share your unique Hoot Referral Link with your friends and family to get $5 for every new user that you refer who opens a Hoot account when it becomes available.
In order to receive any bonuses that you earn for Hoot referrals, which will be deposited directly into your Hoot Bank account, you will need to actually open an account once it becomes available, so you can't just earn referral bonuses without actually opening an account eventually.
Please feel free to start a Hoot Referral Link Conga Line in the below comments, so that everybody can get an extra $5 bonus or more when you open a Hoot account.