If you just opened a new checking account and you're not familiar with the common checking account services and features that are available from most banks, check out these tips to maximize the many benefits of your new checking account.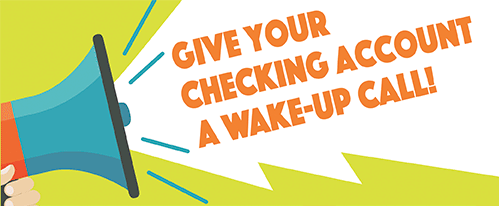 1. Set up a Direct Deposit
If your employer provides a direct deposit option, you should take advantage of it and set up a direct deposit to your new checking account.
You'll get your money faster, because you won't have to cash your checks and wait for the funds to clear, and you'll always get paid on time (even if you call in sick).
Many banks will offer you a new checking account bonus when you set up a direct deposit, like the $200 Chase Total Checking® Account Promotion, and a direct deposit is usually an option to waive any monthly maintenance fees that your account may have.
2. Avoid Monthly Maintenance Charges
If you didn't sign up for one of these Free Checking Accounts, then you should definitely make sure that your account either does not have any monthly maintenance charges or has options available to waive the monthly fees, and that you can meet those waiver options.
You may have to meet a minimum daily deposit amount, set up a direct deposit, or make a certain number of debit card transactions, but whatever it is, just make sure that you are meeting the monthly requirement to avoid any maintenance fees.
This is definitely one of the Checking Account Features to Consider before you even open your new checking account.
3. Enroll in Online Banking and Mobile Apps
The easiest way to manage your checking account is via the Internet by enrolling in online banking and/or mobile apps that your bank may provide.
You'll be able to check your balance whenever you want, view your transaction history, order checks, pay bills online, set up automatic bill payments, transfer money between inside and outside accounts, set account notifications and alerts, and manage your checking account from almost anywhere in the world.
Online banking and mobile apps are just some of the Free Banking Services that are available to checking account holders, so it's worth exploring what your bank has to offer.
4. Use Your Debit Card Wisely
Most banks will offer you a free debit card with your checking account, which you can use to make purchases at millions of locations worldwide and make transactions at ATMs, such as deposits, withdrawals, and transfers between accounts.
Your debit card purchases and withdrawals are debited directly from your checking account, and debit cards do offer some protection if your card is lost or if you have fraudulent purchases on your account.
However, most debit cards don't offer any type of decent rewards program, so it's usually a better option to sign up for a Cash Back Bonus Credit Card to use when making all of your purchases, and then you can simply pay off your credit card account directly from your checking account, which will allow you to earn some rewards for your spending instead.
5. Balance Your Checkbook Regularly
Even though all of your transactions are automatically recorded in your online banking portal, you should still keep a separate physical or digital checkbook balance sheet that you use to record your transactions.
You can use this to record all of your checks, debit card transactions, deposits, withdrawals, and automatic payments as you make them.
By doing so, you will have a running balance of how much money you have in your checking account at any time, and then you can compare your own records with your online banking records and monthly statements to make sure that everything is correct.
Doing this will also help you avoid any overdraft penalties, just because you'll be more aware of your checking account balance at all times.
6. Avoid Overdraft Fees
These best way to avoid overdraft fees is to always know how much money is in your checking account and never spend more on your debit card or withdraw more than is available.
Always check your checking account balance before you make any purchases on your debit card, and you probably won't run into any issues, but you can also set up low balance alerts on your account to receive a text or email when your funds go below a specific minimum amount of your choosing.
You should also be aware that some of your "Available Balance" may targeted for future use on bills if you have set up automatic bill payments from your account, so make sure you know the time of the month when any payments are automatically deducted and plan your spending accordingly.
If at all possible, leave yourself a cushion in your checking account balance, so that any accidental spending mistakes don't result in an overdraft fee.
Many banks do offer an optional overdraft protection service to help you avoid any overdraft charges, but there may be a fee to enroll and participate in these overdraft protection services, so make sure you understand the terms if you decide to enroll.
7. Sign up for eStatements
Signing up for eStatements can help you avoid excessive mailings and paper waste, which in turn can help you avoid having your banking statements end up in the wrong hands through mail theft or improper disposal (always shred your documents).
Simply sign up for eStatements when you create your online account to avoid any of the hassles that can come with paper statements.
If you need access to your statements, your online banking portal should provide you with many prior months and you can download them to save for prosperity if you should desire.
8. Understand Funds Availability Rules
If you make a deposit to your checking account, make sure that you know when the funds will actually become available to you for spending or withdrawal.
Some deposits are not immediately available for use, as checks may need to be cleared, so ask your banker when your deposit will be available for withdrawal, or review this information in your online account.
9. Keep Your Information Private
It's always a good idea to be overly cautious when using your debit card online or in person.
Make sure that any websites where you make a purchase are secure (check the URL for "https") before you enter your debit card numbers.
Check over your shoulder before making any in-person purchases or ATM transactions, so that somebody is not trying to read your numbers or scan your data.
Also, don't throw out your paperwork without shredding them first, as your private info can get into the wrong hands that way.
10. Notify Your Bank of Any Problems
If you take reasonable precautions, your checking account should remain safe, but some things are out of your control and problems can always occur.
If you notice any fraudulent charges or withdrawals on your account, immediately call your bank to report the transactions.
There should be a number that you can call on the back of your debit card, and they will immediately freeze your debit card and help you resolve any issues.
Utilizing these tips should help you maximize your checking account services and features and manage your checking account balance to avoid any issues.