Wells Fargo is offering a special checking account promotion for the 2013 Wells Fargo Plush Pony.
Just open an eligible checking account or package, either online or in person, to receive this year's plush pony, Shamrock, by mail.
You must be a new Wells Fargo consumer checking customer to qualify.
Check out this Wells Fargo Plush Pony Promotion to apply online for your new checking account today.
What is a Plush Pony?
In its most basic form, a plush pony is a stuffed animal that looks like a small horse.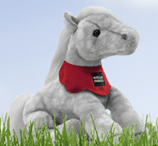 However, they represent much more, as these unique toys are based on actual horses that were used by Wells Fargo's express agents.
Unbeknownst to myself, they are actually quite popular, and you can find Plush Ponies for Sale on eBay, where people are actually bidding on them, with some limited editions going for a pretty penny.
You can read about the History of Plush Ponies for a fuller understanding of their honorable lineage.
How To Qualify for Shamrock
Open and fund a new Wells Fargo Everyday Checking account (available in AZ, NC, and SC only) or Wells Fargo Checking Package checking account with the minimum opening deposit.
For accounts opened in Wells Fargo stores:
The minimum opening deposit is $50.
You will receive your pony at the time of account opening AND funding.
For accounts opened through Wells Fargo Online:
The minimum opening deposit is $25.
You must fund your account within 14 days of account opening.
You will receive your pony by mail within 2 to 6 weeks of account opening AND funding.
You must submit your online application from the promotional page in order for you to qualify for the plush pony.
Your Pony cannot be picked up in stores when the account is opened online.
Qualifying Accounts
All Wells Fargo Checking Packages and the Wells Fargo Everyday Checking account are eligible for this offer.
Teen Checking and Wells Fargo Value Checking accounts are not eligible.
Promotional Details
This offer is valid from November 18, 2013, through January 14, 2014 (possibly expires December 31, 2013, as Wells Fargo has 2 different expiration dates listed).
You cannot combine this with any other offer.
There is a limit of 1 pony per customer, so don't be greedy with Shamrock.
You can't get this Plush Pony offer if you are a Wells Fargo team member, so don't even try it.