The ReachNow App is a carshare service, rideshare service, and vehicle rental service all in one with a fleet of BMW and MINI vehicles available for your transportation needs, currently available in Seattle, Portland, and Brooklyn.
Plus, you can get a $25 free bonus credit when you download the ReachNow App for iOS or Android and enter Promo Code GETGREEN in the "Promos" section under the Menu.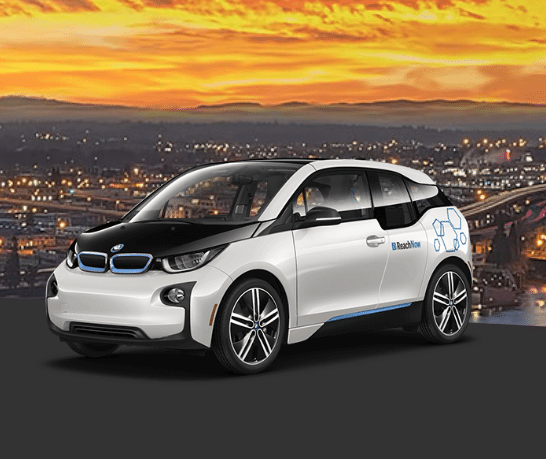 About ReachNow
There are 3 different service options available from ReachNow:
1. Car Sharing: You simply find a car that is available near you, and you can drive it for as long as you like (up to 120 hours), and then you just leave it when you're done.
2. Ride Sharing: Pick a place where you need to go, and a driver will arrive in a BMW in minutes to take you to your destination.
3. Car Rental: You can reserve a car ahead of time, and have it delivered to you wherever and whenever you want.
How To Join ReachNow
You simply download the ReachNow App on your iOS or Android device and register with your current driver's license and credit card.
Once you follow the simple instructions, you could be approved and driving within minutes.
ReachNow is currently waiving their $39 membership registration fee, so you can join for absolutely free right now.
To become a ReachNow Member, you must have a valid U.S. driver's license, acceptable driving record including no major violations, be at least 18 years old, and have at least 2 years of driving experience.
A valid credit or debit card is required in order to make payments, as prepaid credit cards are not accepted.
How To Use ReachNow
You can utilize the full ReachNow service with just the app, and you can take your first trip as soon as you are approved using the ReachNow App.
After registration, you will be asked to enter your mailing address in order to receive a Member Key card for all future trips.
This Member Key card functions as the car key – it will lock and unlock any available vehicle in their city-wide fleet and is valuable to have in cases when you phone may have poor cellular reception.
How To Find ReachNow Vehicles
ReachNow is a free-floating car sharing service, which means their cars are primarily self-distributed throughout the Home Area through member usage, so simply check the ReachNow app for the nearest available vehicle.
All available vehicles are displayed on the interactive map in the ReachNow app.
The vehicles are shown along with specific information, including license plate number and fuel level/state of charge.
Users can filter by vehicle brand: BMW, BMW i, and MINI.
Once you find a vehicle, you can keep the car for as little or long as you like, up to 120 hours (5 days).
ReachNow $25 Free Bonus Credit
After you download ReachNow and complete registration, simply enter Promo Code GETGREEN to get a $25 free bonus credit to use toward your first rental or ride.
You can enter the promotional code in the "Promos" section under the Menu within the app.
This $25 free credit will expire approximately 6 to 8 weeks after you apply the code.
If you know of any other ReachNow promotional codes that are available, please feel free to post them in the below comments.
You may also be interested in the Zipcar Car Sharing Service that is more widely available at this time.
A special thank you goes out to myi for posting this promotional code in the DansDeals.com Forums.