The Sidecar ride service is offering new users a $20 credit toward your first ride.
Plus, you can earn an extra $10 credit for each friend that you refer who takes a ride with Sidecar.
Updated 1/24/2017: Please note that the Sidecar service has been shut down and is no longer offering rides. Sidecar is closed permanently.
Updated 12/23/2014: Sidecar Referral Bonus Increased
Sidecar has increased the referral program bonus to $20 for new users and $10 for current users.
First-time Sidecar riders can get $20 in free credit when you enter a current user's referral code while signing up.
Plus, current Sidecar users will get a $10 credit after your referrals take their first ride.
Thank you to our reader Toby (Referral Code TOBIAS11) for alerting us to this increase, and please feel free to use his Sidecar referral code to get your $20 new user credit.
How To Get $20 in Free Sidecar Credits
1. Download and install the Sidecar App for your iPhone or Android.
2. Create an account and then Enter Referral Code: jdhmd prior to requesting your first ride.
3. The $20 credit will be added to your account immediately.
This $20 credit offer will work for new Sidecar users who have not previously requested a Sidecar ride.
This offer is valid anywhere Sidecar is available.
More Sidecar Promotional Codes
Promo Codes: SFVIP and SDVIP – $25 Credit for Sidecar.
Promo Code: RD3TQ – $25 Credit for Sidecar.
Promo Code: pccnh – $10 Credit for First-Time SideCar Riders.
Promo Code: Jchnk – $10 Credit for First-Time SideCar Riders.
Sidecar Customer Referral Program Details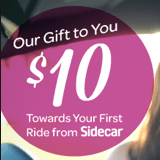 The Sidecar referral program provides current users with a $10 bonus credit for each new rider that you refer after they take their first ride.
Plus, new Sidecar users will receive a $20 credit toward your first ride when you use a referral code, so everybody wins.
If you want to share your Sidecar referral code, please feel free to do so in the comments below this article.
About Sidecar
Sidecar is available in San Francisco, Los Angeles, Long Beach, San Diego, Seattle, Chicago, Boston, and Washington, D.C.
The Sidecar driver service allows riders to choose the vehicle, the driver, and the price for every ride that you take, and it is similar to Lyft and Uber.
To request a ride, you simply enter your location and destination in the Sidecar app to find nearby drivers.
You can then choose the vehicle, the driver, and the price that you would like from the available rides.
Sidecar also provides a unique pricing system that allows drivers to set their own price and compete for your business, so that you get lower rates.
Sidecar Driver Referral Program
Sidecar also offers a referral program for drivers.
When a current driver refers a new driver to Sidecar, you will both receive a $50 bonus after the referred driver's 10th ride.
Additionally, Sidecar posted on their Facebook page on 2/21/2014 that they are offering bonuses for all new drivers who sign up right now.
So you can receive an extra incentive of $50 when you complete your 10th ride, whether you sign up through another Sidecar driver's referral or not.
Check out Sidecar and participate in the referral program to get extra bonus credits toward free rides.