Surkus lets you get paid to party and earn $8 per hour or more for attending clubs, restaurants, and events to help liven up the crowd.
Plus, you can join via this Surkus $5 Referral Bonus Link to get a $5 sign-up bonus when you attend your first Surkus event (within 72 hours after joining).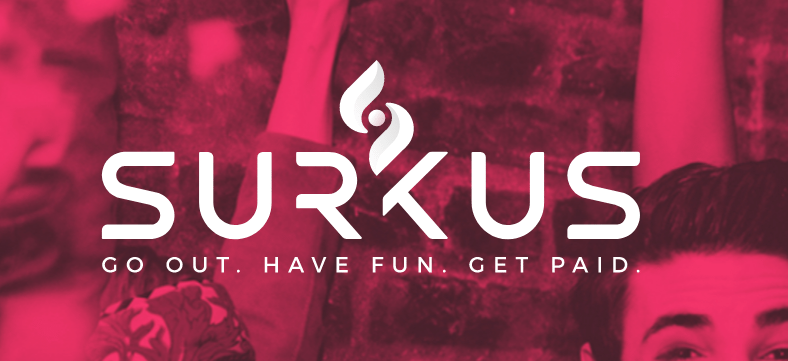 Surkus $5 Sign-Up Bonus Offer
Simply create a free account via this Surkus $5 Referral Bonus Link to get a $5 sign-up bonus when you attend your first Surkus event (within 72 hours after joining).
This offer is available to new Surkus members only when you sign up through a referral link from a current Surkus member.
In order to qualify for your $5 sign-up bonus, you must attend your first Surkus event within 72 hours after creating your Surkus account.
This must be a real-world event, and not an online event.
How Surkus Crowdcasting Works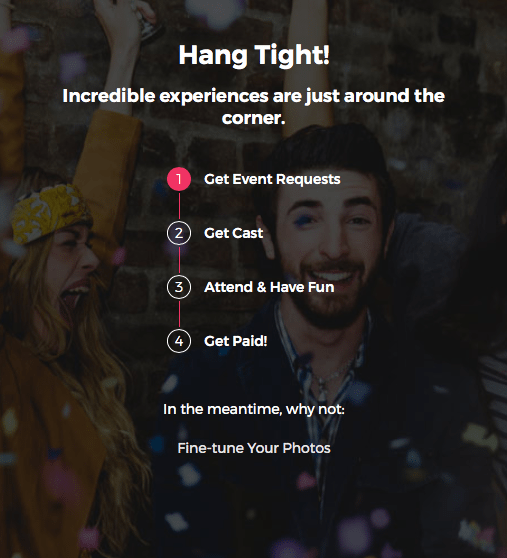 Surkus is a "crowdcasting" platform that connects businesses with an ideal crowd that can influence and help activate their real-world events.
Brands, agencies, nightclubs, restaurants, and casting agencies partner with Surkus to deliver authentic crowds to influence their events or venues.
Surkus members get paid for attending exciting events and must-see venues, ordering drinks, and livening up the place, so you basically get paid to party.
Surkus is available via an iOS or Android app as well as online via the Surkus website.
Create a Free Surkus Profile
To become a Surkus member, you simply Create a Free Surkus Account and Profile on the app or website by linking your Facebook account.
You can then add additional details to your Profile to increase your chances of being cast for events.
Get Cast for Surkus Events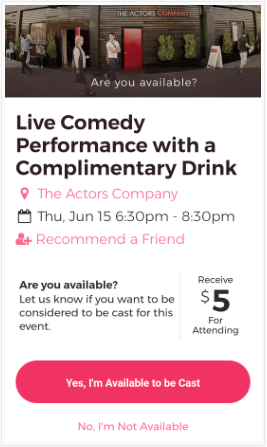 When your profile matches an event's requirements, Surkus will send you an Availability Request.
If you respond "Yes" that you are available, Surkus will then let you know if you've been cast for that event.
If you've been cast for an event, you'll receive an in-app notification stating "You've Been Cast" with the event details and requirements for attendance, including when to show up and ways to contact the Ambassador when you do arrive.
Ambassadors are your in-event point of contact who work with Surkus to guarantee that events go smoothly and safely for the members and clients.
Attend Surkus Events
Once you are cast, you then attend the event (arrive at least 15 minutes before the scheduled start time), check in with the Ambassador upon arrival, follow any instructions to meet the requirements of attendance, and enjoy your night out.
Surkus has a geo-location system that recognizes when you are near the venue and when you leave the area.
Get Paid by Surkus
After you attend the event, you are paid within 24 hours directly into your Paypal account.
Payments for attending some Surkus events can be as much as $8 per hour or more, while other events offer a flat fee of $5 or more for attending.
As a Surkus member, you do NOT ever have to pay a cover charge for any events, plus you will often get a free drink or free food for attending, on top of getting paid.
Surkus Event Types
Here is a list of the types of Surkus events that you will be attending:
Bar & Lounge
Bar & Lounge (Table Service)
Brand Experiences
Comedy
Day Party
Background (Extra) Acting
Private Venue / House Party
Modeling
Nightclub
Nightclub (Table Service)
Digital Experiences
Pool Party (Table Service)
Promo Modeling
Restaurant / Dining
Private Dinners & Drinks
Increase Your Demand on Surkus
If you want to be cast for events more often, there are a few things that you can do to influence the selection process.
When you are cast, be sure to respond quickly to any supplemental messaging, arrive on time, stay throughout the event, and be engaging.
Be sure to keep your profile and event preferences updated as well.
Some of these factors are included in your Reputation Score and can affect your ability to be cast, along with your Event Preferences.
Online-Only Surkus Events
Surkus now offers online-only events that pay for your honest reviews on Amazon.com (for Prime Members only).
If you are cast for an online-only event, you must follow the specific Participation Instructions to complete the process and get paid.
In general, you must purchase the product you are reviewing and email your proof of purchase to Surkus (including the product name and total amount paid).
You then wait for the product to arrive and begin testing the product as instructed.
You'll need to take screenshots of your review, complete the Verification Form, and upload your final screenshots.
Online-only events will require you to have an Amazon Prime account.
Please note that you do not need to check-in for online events as your check-in will be processed manually by the Surkus team upon completion of the listed instructions, so disregard any check-in notifications when participating in online-only events.
Surkus Give $5 Get $5 Referral Program

The Surkus Refer-A-Friend Program gives both you and your friends a $5 bonus when your referrals attend their first real-world event.
The referrer (current member) earns $5 for each new member that signs up through your invite link and attends a real-world Surkus event for the first time.
The referee (new members) will also earn a $5 bonus for attending your first real-world event.
To share your Invitation Code, visit the "Referral Program" section on the app or website, and you can then share your referral link/code via Facebook, Twitter, text, or email.
There is no limit to how many friends you can refer or the amount of referral bonuses that you can earn.
The $5 first-time event promotion is only available to new sign-ups (within 72 hours after signing up), as existing members are not eligible for this promotion.
If you like to party and you like to get paid, combine these 2 passions into 1 great night out and get paid to party with Surkus.
If you're not so much into the party scene, you can also check out Rewardable to get paid in cash for completing tasks.