Overnight is a last-minute stay and hotel alternative booking app that consists of a community of homes that are hosted by locals and travelers where you can save an average of 60% compared to traditional hotels, so that you can travel spontaneously and book last-minute accommodations easily.
Plus, you can get a $25 Overnight Booking Discount off your first stay when you download Overnight (iOS only) and enter Promo Code MM8253 within the "Payment" section of the app.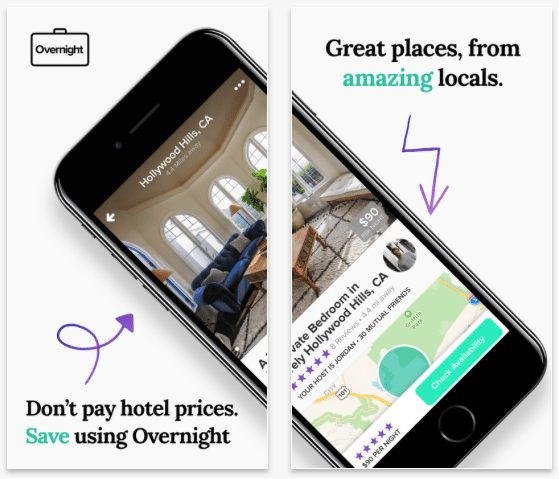 About Overnight Last-Minute Stay Booking App
Overnight allows you to book a last-minute stay with a local for way less than you'll pay for a hotel.
It's like a combination of Airbnb and Hotel Tonight, allowing you to book last-minute accommodations with local hosts in hotel alternatives.
If you like to travel spontaneously and grab a place to stay at the last minute, Overnight can help you travel in the moment and enjoy unique lodgings with real locals.
You'll find couches, shared rooms, private rooms, or an entire place for yourself through Overnight, depending on how little you want to pay and how comfortable you are with other people.
Overnight is serving featured cities including Los Angeles, San Francisco, Austin, New York City, and London as well as many other locations like Chicago, Miami, and more.
You can also add your own rental listing located anywhere to Overnight if you have a space to rent and want to earn some extra money.
Overnight is currently only available as an iOS app.
Overnight $25 Discount for First Booking
Just visit this $25 Overnight Referral Link and/or use Promo Code MM8253 to get a $25 discount off your first booking.
To enter the promo code manually after you download the app, simply visit the "Payment" section under the Menu, and add the promo code in the "Travel Credits" field.
You'll receive a $25 discount off your first booking with Overnight.
This offer is for new users only to use toward your first Overnight booking.
Overnight Referral Program $25 Credits
After you download the Overnight app and create a free account, you can participate in the Overnight Refer-A-Friend Program to earn more free credits toward your future bookings.
You can send friends a $25 discount off their first booking, and you'll get a $25 credit when they book, so everybody benefits.
You can find your Overnight referral code at the bottom of the "Payment" section under the Menu, where you can click on the "Invite friends, get $25" notification to open the referral center with your unique code and other sharing options.
You can travel for free by gifting your friends travel credits to get a $25 bonus credit for each new user that you refer who books a stay.
You can use your credits once per stay per credit earned and credits can be used up to $25 per stay.
Unfortunately, you cannot combine the $25 credits that you earn through the Overnight referral program, so you can't stack your credits to get more expensive stays for free, but if you can find a shared stay for $25 or less, then you could get free stays with this referral offer, and you'll also be able to save up to $25 per stay for each referral credit that you earn.
Please feel free to share your Overnight experiences and referral links in the comments below this article, so that everyone can earn more credits to stay with Overnight.