The TravelPony hotel discount booking site is offering $35 in free credits for new users and $25 referral credits for current members.
TravelPony offers up to 60% more savings than other travel websites at many top hotels around the world.
New TravelPony users will get $35 in travel credit when you create a free TravelPony account through a current customer's referral.
That includes a $10 Referral Credit plus a $25 New User Credit.
Just sign up through this TravelPony Referral Link that was provided to us by a reader to receive an instant $35 credit to your new account.
Travel credits are discounts that get applied to your hotel price at checkout on TravelPony.
Right now, anyone who signs up for a TravelPony account will get a $25 credit, but you can get an extra $10 credit when you sign up through a current TravelPony member's referral for a total of $35.
Plus, current TravelPony members will earn $25 in travel credit when your referrals stay at a hotel.
TravelPony Referral Program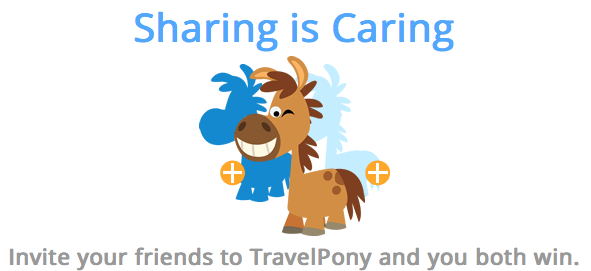 Once you join TravelPony, you can participate in their referral program and share your unique referral link via Facebook, Twitter, or anywhere else.
You'll earn a $25 travel credit for each friend that you refer who stays at a hotel.
Plus, your referrals will earn $35 in travel credit when they create a free account.
TravelPony $50 Promotional Code
TravelPony also has a promotion that's offering $50 off a $200 hotel booking with coupon code KATE50, and it can be combined with your new member credits.
That means you'll get a total of $85 in savings toward any hotel booking over $200.
TravelPony 10% Promotional Code
You can also use promo code FLASHPONY to get 10% off your hotel booking.
You may also be interested in this Hotels.com Cash Rebate Offer for more savings on your next hotel stay.