Get a $50 GradSave 529 College Fund Donation for only $30 via Groupon for a limited time.
You'll pay only $30 for a $50 College Fund Donation with a GradSave Gift Card.
GradSave is a social savings network that's free to set up and allows you and your family to make contributions toward a child's college fund.
That means you'll get a free $20 toward the recipient's GradSave college fund.
GradSave will then transfer any contributions to a linked 529 account, or store them in an FDIC-insured account at Bank of America until you establish a 529 account.
Even if you don't have a 529 college savings plan already, you can still get this deal and open a free GradSave account to establish a 529 college savings plan later.
Check out this GradSave Groupon Deal to get a free $20 in college savings.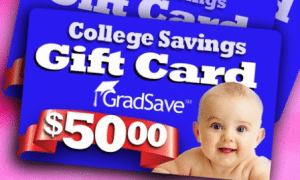 There is a limit of 1 of these Groupons per person, buy you may buy 3 additional Groupons as gifts.
However, there is a limit of 1 per household, customer, beneficiary, account, savings plan, or 529 plan.
This offer is available online only for new customers only.
Learn more about GradSave to set up a college savings fund.
Review these 529 College Savings Plans as well to get free matching contributions.
Get this GradSave Groupon offer to get a $50 college savings fund contribution for only $30.