Updated 1/5/2017 – $100 Referral Bonus Ended, but $150 Bonus Still Available: As of December 16, 2016, the $100 referral bonus program has ended, but you can still qualify for a $150 bonus when you open a new Motif Investing account. Just visit this Motif Investing $150 New Account Bonus to learn how to earn even more bonus money from Motif Investing.
New Motif Investing Referral Program Available: Motif Investing has introduced a new Motif BLUE Benefit for their referral program, which has replaced the previously available $100 referral offer.
Motif Investing offers a $100 referral bonus for both parties when a current customer refers a new customer who opens a Motif Investing account, funds it with at least $1,000, and executes 1 Motif trade.
Just sign up through this Motif Investing $100 Bonus Link to receive a $100 bonus when you deposit $1,000 within 10 days of account opening and make 1 Motif trade.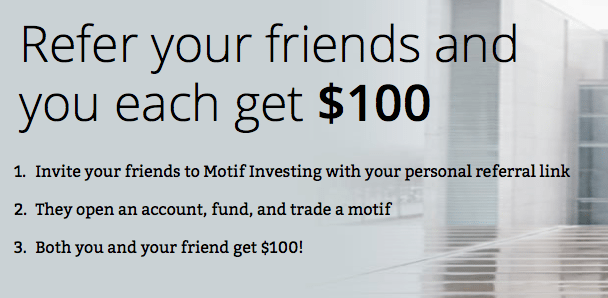 Motif Investing makes investing in stocks and bonds easy, as it groups collections of related stocks and bonds together into individual packages (known as a Motifs), which you can invest in all at once with a single Motif trade.
It's Free to Open a Motif Investing account with No Maintenance Fees, and there are low trading fees of $9.95 per Motif or $4.95 per Stock/ETF.
If you are a current Motif Investing customer with access to the referral program, please feel free to leave your contact information in the comments below this article to exchange referrals with other readers.
Motif Investing Referral Link for $100 New Customer Bonus
Just use this Motif Investing Referral Link to get a $100 bonus when you open a new Motif account, fund it with $1,000, and place 1 Motif trade.
How To Earn Motif Investing Referral Bonuses
1. A current customer must refer a new customer via a personal referral link, email, or Facebook.
2. The new customer must open a new Motif Investing non-retirement account (it's free to open and maintain account).
3. The account must be funded with at least $1,000 within 10 calendar days of account opening, and the funds must remain in the account for 45 calendar days.
4. At least 1 Motif trade must be executed with the new account ($9.95 fee per Motif trade).
5. The $100 bonus will be deposited into both of your accounts within 30 days after the 45-day qualification period.
Motif Investing Referral Program Details
There's no limit to how many friends you can refer.
To ensure you receive the offer, each friend must use your personal referral link or the link in your Motif invite via email or Facebook to open their accounts.
Once your friend's first Motif trade is executed, you and your friend will each receive a $100 credit to your Motif Investing non-retirement accounts, within 30 calendar days after the end of the 45-calendar-day period is complete.
You will receive a $100 Amazon gift certificate via email if you, as the referrer, don't have a Motif Investing non-retirement account.
My Personal Experiences Earning $100 Bonus
This is one of the easiest $100 bonuses to earn with an investment account, because you can immediately place your first Motif trade after opening your new Motif Investing account, as long as you fund your initial deposit using your online bank account credentials.
It takes just seconds to open a new Motif Investing account, and when you reach the funding option, you can select from a number of popular banks to instantly fund your account and receive immediate access to make trades.
You simply enter your online bank account credentials and the amount of money that you would like to deposit, and the funds are instantly available for investing in your first Motif trade.
There are other funding options available, if you don't want to enter your online banking credentials, but this is a quick and easy option, so that you can place your first trade right away.
With similar services, you would usually have to wait a few days to verify your bank account for funding, but this process provides instant funding and is really convenient.
You can then make your first Motif trade immediately after opening your account to qualify for the $100 bonus.
I opened my new Motif Investing account via a reader referral link, funded it with $1,000 instantly from my bank account, and immediately placed my first Motif trade, all in less than 15 minutes.
It's an easy way to qualify for a $100 bonus, and there are plenty of interesting Motif options to invest in, like "Precious Metals," "Online Gaming World," "High-Yield Dividends," and many others.
Get started at this Motif Investing $100 Referral Link to register for a new Motif Investing account today.