Scottrade is offering up to $2,500 in bonus cash or 700 free trades for new or existing customers who open and/or fund a brokerage account.
You'll earn $100 when you fund your account with at least $25,000, or you can earn up to $2,500 when you meet higher funding requirements.
Alternatively, you'll receive 700 free trades with a minimum deposit of $50,000 or more.
Updated 1/27/2017: Scottrade has now increased the maximum cash bonus that you can earn from $2,000 to $2,500, and the free trades offer has been increased from 50 to 700 free trades, but you can only earn either a cash bonus or free trades. You cannot earn both free trades and a cash bonus together with this deal.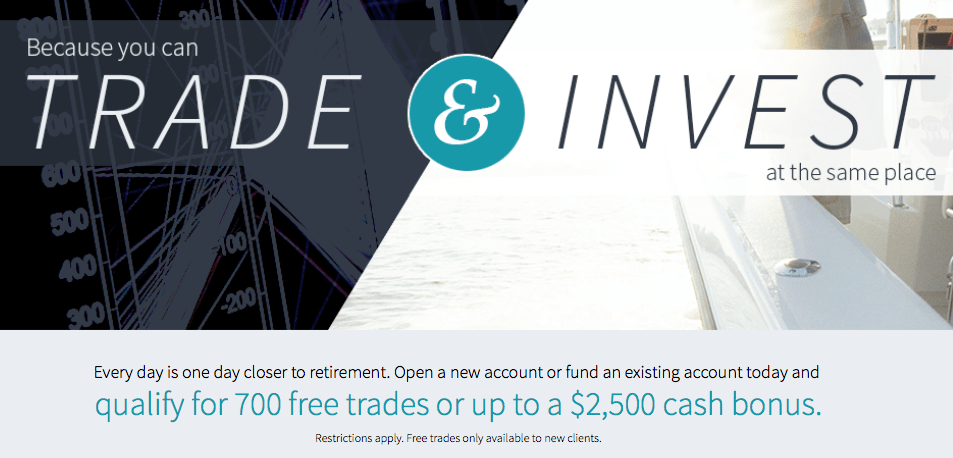 This Scottrade Cash Bonus Offer is valid for an eligible new or existing Scottrade account that is registered and funded.
Accounts can be registered online or through your local Scottrade branch.
How To Earn up to $2,500 Scottrade Bonus or 700 Free Trades
1. Open new account or register existing account.
2. Deposit qualifying funds into your account within 60 days.
3. Maintain qualifying funds for at least 1 year.
Qualifying Funding = Cash Bonus Amount
$25,000 – $49,999 = $100 bonus.
$50,000 – $99,999 = $200 bonus.
$100,000 – $249,999 = $300 bonus.
$250,000 – $499,999 = $600 bonus.
$500,000 – $999,999 = $1,000 bonus.
$1,000,000+ = $2,500 bonus.
Qualifying Funding = 700 Free Trades
$50,000+ = 700 Free Trades.
Who Qualifies
This offer is valid for new and existing Scottrade retail brokerage account clients.
This offer is not valid for Scottrade Options First, Scottrade Bank accounts, or accounts of clients of registered investment advisors working with Scottrade or its affiliates.
Available for U.S. residents age 18 and older.
This offer is not valid for Scottrade employees and their immediate family members or employees of any securities regulatory organization or exchange.
How To Register
Eligible new accounts can be registered online or by contacting your local Scottrade branch.
Eligible existing accounts can be registered by contacting your local Scottrade branch.
Registering an account for this offer will terminate its registration for any other cash bonus offer.
Promotional Details
There is a limit of 1 offer per registered account.
The Eligible Funds must come from sources external to Scottrade and all cash and securities transfers from external sources will be valued as of the date received by Scottrade.
If net deposits from external sources less assets withdrawn or transferred out of the registered account equal to at least the minimum required amounts (minus trading losses) do not remain in the registered account for at least 1 year after the registration date, then Scottrade may, in its sole discretion, charge the amount of the cash bonus back to the registered account.
Check out these other brokerage account promotions from TD Ameritrade, Fidelity, and Capital One Investing to earn more bonus cash with a new investing account.