The Corner Bakery Cafe will give you a free sweet treat just for joining their eClub.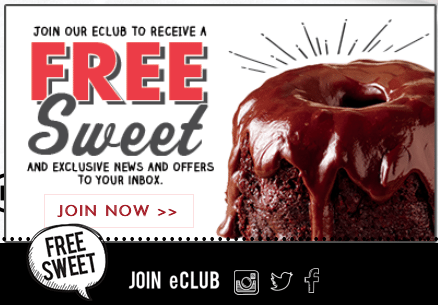 Just join the Corner Bakery eClub to get a coupon for a free bakery treat with no purchase required.
As a member of the Corner Bakery eClub, you'll find out what's new and receive special offers delivered directly to your email inbox.
The Corner Bakery Cafe offers a great selection of sandwiches, paninis, pastas, soups, salads, chili, breakfast items, oatmeals, yogurts, kids items, bakery sweets, coffee, and more.
It's a great way to eat healthy at one of their locations or on the go with online ordering available.
They also provide catering services to help you set up the perfect spread for your party or event.
Take advantage of this special offer from the Corner Bakery Cafe to get a coupon for a free sweet treat when you join their eClub today.