Check out these 5 top cash back rebate programs that can save you money on your everyday purchases in a variety of different merchant categories.
These rewards programs will give you a cash back rebate on your purchases at select merchants or of specific products.
By using these cash back rebate services, you'll save money everyday on purchases that you are already making.
You can use these cash back programs in addition to any other discounts or coupons that you might be able to find for even bigger savings.
There are no fees to use any of these services, so all of the savings go directly back into your pocket.
How Cash Back Rebate Programs Work
Cash back rebate services are easy to use and a great way to save money on all of your purchases.
All of these cash back programs are complete free to participate, and all you need to do is sign up for a free account to get started.
After you create your account, you can start earning cash back on all of your qualifying purchases at participating retailers and/or of select products.
To qualify for cash back earnings, you either click through merchant links from the cash back service's website or you scan your purchase receipts and submit them to the cash rebate program directly.
These cash rebate programs will then pay you a percentage of your purchase amount, which varies according to the merchant or product that you purchased.
If you're looking to save money on your everyday purchases, then these top cash back rebate programs can help you get a little bit back on everything you buy.
1. Ebates – Online Shopping Rebates
Shopping online is a great way to get the best deals on many products, and if you're looking to save even more money for your online shopping purchases, then Ebates has you covered for almost anything you want to purchase online.
They offer thousands of popular online retailers within their network, where you can earn anywhere from 1% to 15% cash back or more on all of your online purchases.
You simply sign up for a free account and then click on any participating merchant's link directly from the Ebates.com website to active your cash back earnings.
Ebates will then send you a big fat check in the mail every quarter with all of your earnings.
In addition to retail stores, Ebates also provides cash back on various travel providers and other merchants, so you can really maximize your savings, and they even offer in-store cash back at select retailers.
Read our Ebates Review for more details.
2. Ibotta – Grocery Shopping Rebates
Ibotta – Use Code "ntiilmv" for $10 Bonus
Everybody needs to shop for groceries, and Ibotta offers a great way to save money on your grocery shopping at almost any grocery store in America.
You simply download the free Ibotta app for iOS or Android, and then select rebates that you wish to receive before you go shopping at the store.
After you're done shopping, you simply scan your grocery receipt to receive credit for the rebates on items that you purchased.
Ibotta pays you via PayPal, Venmo, or gift cards from various merchants, including Amazon, Walmart, iTunes, Whole Foods Market, Target, and many others.
Besides being a great way to save on groceries, Ibotta also offers cash back rebates on mobile shopping, pharmacy purchases, travel, and in other categories.
However, the biggest selection of rebates is in their grocery categories, so that's where you can save the most money, including specific brand rebates as well as any-brand rebates, like getting 50 cents cash back for purchasing any brand 1 gallon of milk.
If you are into Grocery Coupon Clipping, then you can still use any grocery store coupons that you may have in addition to receiving your cash back from Ibotta, so this is a great way to maximize your savings on groceries.
Read our Ibotta Review for more details.
3. bevRAGE – Beer, Wine and Liquor Rebates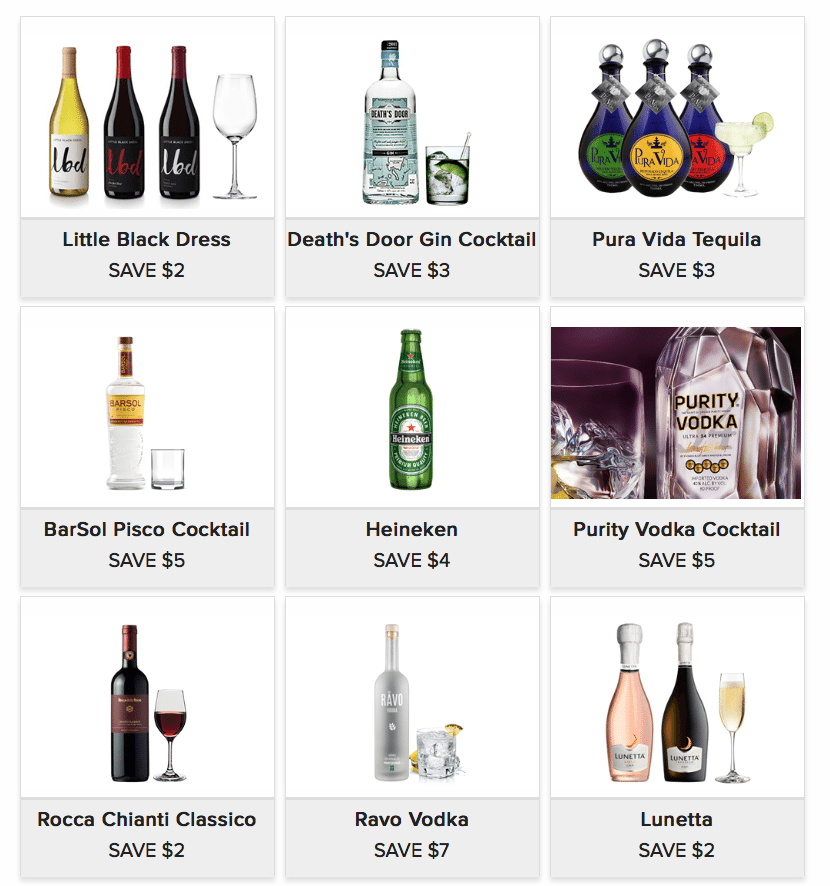 bevRAGE – Use Code "BEERME" for $2 Bonus
Alcohol is one of the most expensive items you can buy, so if you want to earn cash back for buying beer, wine, and liquor at various stores, restaurants, and bars, then bevRAGE is a great way to get extra savings on your party supplies.
After downloading the bevRAGE app for iOS or Android, you simply browse participating offers, purchase the products you choose at participating locations, and snap a picture of your receipt after you make your purchases.
bevRAGE will deposit your cash back earnings directly into your PayPal account within 48 hours, or you can request a physical check if you prefer.
Whether you're buying wine at the grocery store or checking out the hottest bars in your local scene, bevRAGE will help save you money on your beer, wine, and liquor purchases at participating stores, restaurants, and bars or night clubs.
In some cases, you can even combine your savings from bevRAGE with similar offers that may be available from Ibotta to double-up your cash back earnings with a single purchase.
Read our bevRAGE Review for more details.
4. Upside – Gasoline Rebates (DC, MD, and VA)
Upside – Use Code "VB5KT" for Extra Savings
Constantly buying gas for your daily commute can add up fast, so if you're looking for a great way to save extra money on your gasoline purchases, Upside is the perfect solution for earning cash back on gas at various gas stations.
However, Upside is only available at participating gas stations in Washington D.C., Maryland, and Virginia at this time, so the rest of the country will just have to wait until they expand nationwide.
By using the Upside app for iOS or Android, you can save up to 50 cents per gallon off all of your gas purchases.
You simply purchase gas at participating gas stations with your credit or debit card, snap a picture of your receipt, and Upside will send your earnings to your PayPal account or by check.
Upside even offers cash back on other service station purchases, such as car washes, auto services, and items from the convenience store, so you can get additional savings as well.
Read our Upside Review for more details.
5. Foodler – Restaurant Rebates
Foodler – Earn Cash Back at Restaurants
Sometimes you just need a good restaurant meal to satisfy your cravings, and a great way to get cash back rebates on restaurant delivery or takeout orders is to order online through the Foodler service.
By ordering through Foodler, you'll earn reward points on all of your purchases as well as cash back rebates at select restaurants.
There is no extra charge to order through Foodler, and they have participating restaurants in almost every major city in America.
Your reward points can be redeemed for gift cards from popular merchants or even cash, and the cash back rebates will save you additional money on top of the reward points.
Foodler is a great way to save extra money and earn cash rebates on restaurant orders, plus it's absolutely free to use.
Read our Foodler Review for more details.
These are some of the best cash back rebate programs available for you to save extra money in a variety of everyday purchase categories.
To earn even more cash back on top of these great services, make sure that you use a credit card with cash rebates for all of your purchases, such as the Chase Freedom Unlimited Credit Card.