The new MyPoints Refer-A-Friend program provides new members with 1,750 bonus points and current members with 750 bonus points after the referred new member makes a purchase of $20 or more through the MyPoints shopping rewards network.
Just sign up through this MyPoints Referral Link to receive 1,750 bonus points after you make a purchase of $20 or more, which is redeemable for a $10 Gift Card from Amazon, Walmart, eBay, and many other stores.
Current MyPoints members will earn 25 bonus points for each new member that accepts your invitation and 10% bonus points on all eligible points that your referral earns.
Plus, current members will earn 750 bonus points when the newly referred member makes a $20 purchase, and the new member will earn 1,750 bonus points, so everybody benefits.
The 1,750 bonus points are worth more than $10 toward a gift card redemption.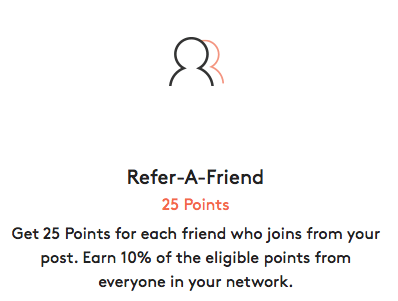 Earn $10 MyPoints New Member Bonus Gift Card
Just sign up for a new MyPoints account through this MyPoints Referral Link to get a $10 gift card bonus (1,750 bonus points) when you make a $20 purchase within 30 days on MyPoints.com.
MyPoints Refer-A-Friend Program Details
You can refer new members via Facebook or email from directly within your online MyPoints account.
If your friends join MyPoints through the link in your invitation email or Facebook post, then they will become a part of your network, and you will earn 25 bonus points and 10% of all their eligible points.
Once your friend joins MyPoints and makes a merchant purchase (other than Amazon and Games) of at least $20 (excluding taxes, shipping, handling, and any special processing fees) within 30 days through the MyPoints.com website and emails (including BonusMail), MyPoints will award you with 750 points.
Points are earned only if and when the referral has, within 30 days of the referral date, clicked on the invitation email and completed the MyPoints registration form with valid information.
Once all applicable requirements have been met, it may take up to 30 days for your points to post to your account.
You can earn 10% of all eligible points earned by everyone in your network every month.
Eligible points are defined as points earned through any single activity taken by the referral that earns that referral more than 10 points.
You can refer an unlimited number of people.
Learn more about the MyPoints Online Rewards Program to earn bonus points for your everyday Internet activities.
Participate in the MyPoints referral program to earn bonus points for referring your friends to MyPoints.