The new Polaroid Snap Touch Instant Digital Camera, Currently Available for $179.99 on Amazon.com, allows you to snap, print, and share your photographs instantly with app-driven creative and new Bluetooth connectivity.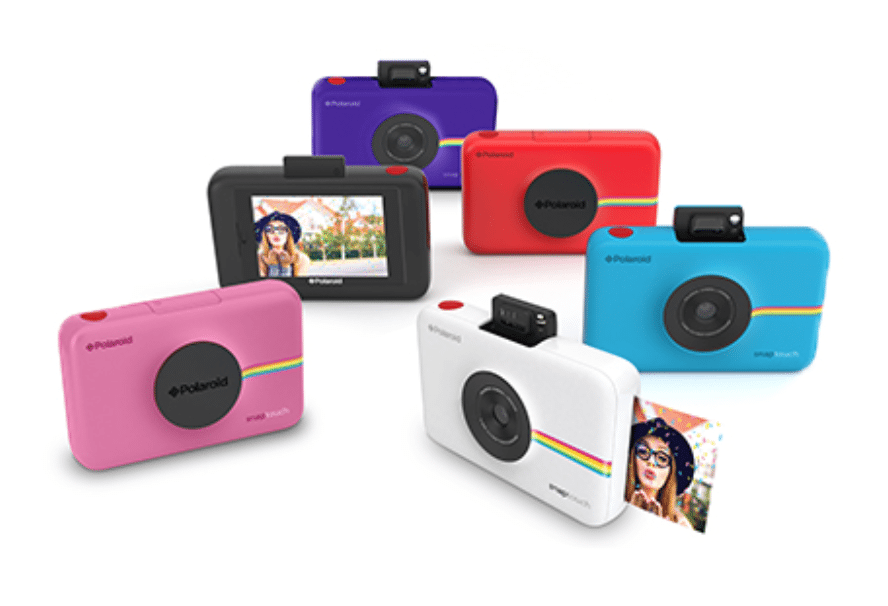 Update – Giveaway Ended: Our Polaroid Snap Touch Instant Digital Camera giveaway has ended and the winner will be contacted soon. Thank you to everyone who participated.
About Polaroid Snap Touch Instant Digital Camera
The Polaroid Snap Touch instant digital camera allows you to snap, print, and share all of your photos instantly.
You can visit www.polaroid.com/snap-touch for the full details on the Polaroid Snap Touch Instant Print Digital Camera With LCD Display with Zink Zero Ink Printing Technology.
Polaroid Snap Touch Camera Details
ZINK Zero Ink technology for instantly printing photos.
3.5 inch LCD touchscreen.
3 color modes – black & white, color, and vintage sepia.
Option to print with the Polaroid Classic Border Logo.
13mp CMOS sensor.
Bluetooth capability.
Self timer and selfie mirror.
1080p full HD video recording capability.
Images and video stored on a micro SD card (up to 128GB).
Polaroid Snap Touch Camera Features
SNAP, PRINT & SHARE – Sleek Digital Camera Features Built-In Printer So Your Photos Can Be Instantly Developed on 2"x3" Polaroid Zink Zero Ink Paper.
COOL TOUCHSCREEN DISPLAY – 3.5" LCD Viewfinder is Great for Capturing Still Photos, HD Videos and Selfies; Easy Navigation, Photobooth and Burst Modes.
13MP PHOTOS / 1080p/720p VIDEO – Instantly share your life with loved ones in vivid color with features such as a 13MP sensor, 1080p Video, a micro SD card slot (128GB max), with various capture modes.
ZERO INK, ZERO TONER – Load your Zink paper and print on the spot. Camera Integrates Polaroid Zink Zero Innovation; Simply Load Adhesive-Backed Paper and Watch Images Come to Life.
SMARTPHONE COMPATIBLE – Bluetooth-Enabled Camera Integrates Printing App for iOS and Android; Edit and Add Filters, Text, Borders, Emojis, Digital Stickers and More.
FILTERS, BORDERS, AND DIGITAL STICKERS – Use the camera or easy app to add filters, borders, and more.
CHARMING DESIGN – Comes in Variety of Fun, Bold Colors; Fits in Your Pocket and Includes Handy Wrist Strap, Micro USB Cord and Paper 10-Pack.
Polaroid Snap Touch Camera Review
For this review, I received a free Polaroid Snap Touch Camera in the color blue.
Right out of the box, the Polaroid Snap Touch is very easy to get started taking pictures and videos (mine even had some charge in the battery, so that I could use it immediately).
The instruction manual is very short, but that's all that is needed, as there are no complicated procedures to perform with this camera.
You basically pop open the flash on top to turn on the camera, and the on-screen controls are intuitive and easy to follow.
Using the LCD viewfinder, you can zoom in and out, switch between camera and video mode, edit and enhance your photographs, and print photos in just seconds.
They even give you a free 10-pack of Zink paper, so that you can print some pictures right away (printing is optional, unlike the original Polaroid cameras).
This is the type of camera that you can hand to a kid of any age, and they'll be snapping pictures before you even have a chance to explain to them how it works.
It's also got enough features that adults of all ages will appreciate its simplicity and ability to record life's great moments.
This is definitely a camera for parties and social events, as the pictures can be printed on adhesive paper, which you can then stick wherever you like, so kids will go crazy for it and adults will appreciate holding an actual photograph for a change.
Printing is optional with the Polaroid Snap Touch, so you can pick and choose which photographs to print, and you can edit or enhance them before printing (they even have an authentic Polaroid-like filter), or you can always go old school and set your camera to automatic printing, which then prints each photograph immediately upon taking a picture (just like the old Polaroids).
You can also use the Polaroid Snap Touch as a stand-alone printer with the integrated Polaroid Instant Mobile App, so that you can take pictures on your mobile device and send them to your Polaroid Snap Touch to be printed immediately.
You can also send pictures that you take with your Polaroid Snap Touch to the app and share them on social media with your friends and family.
The Polaroid Snap Touch uses Bluetooth connectivity to communicate with the Polaroid Instant Mobile App, so there is no need to carry any cables with you.
The in-camera storage only holds about 10 photographs, so you'll definitely need to make use of its micro SD card slot to increase your storage capacity.
Overall, the Polaroid Snap Touch is a great camera for the entire family and would be especially cool at parties and events, where you can take pictures and print them for sharing immediately.
Check out the new Polaroid Snap Touch Instant Digital Camera for an instant party enhancer.