If you're getting a tax refund this year, you might want to consider setting up a direct deposit of your tax refund to a new bank account in order to qualify for a checking account bonus.
For instance, if you're considering an offer from Chase Bank, like the $200 Chase Total Checking® Promotion, then one of the options for a qualifying direct deposit is any single electronic deposit of your government benefits from the government, so a tax refund direct deposit would most likely qualify you.
You could also split your tax refund direct deposit between up to 3 different checking or savings accounts to qualify for multiple Banking Bonuses in one fell swoop.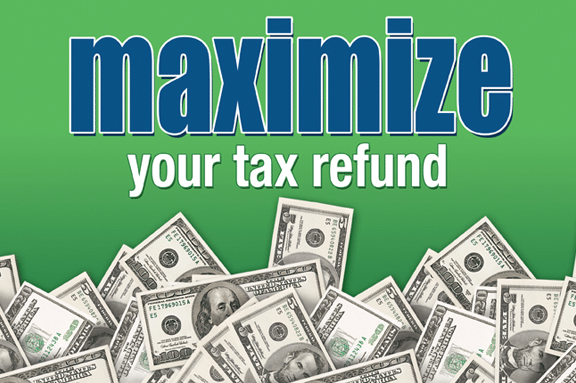 Maximizing Tax Refund Direct Deposits
Getting a direct deposit of your tax refund is absolutely free, and it's the fastest way to get your tax refund.
Receiving a direct deposit of your tax refund could also help you qualify for some extra bonus money with a new bank account, so it's a great option to maximize your tax refund.
This is especially true if you don't otherwise have the option to receive direct deposits from your employer or other benefits, as this could be the one time throughout the year that you can receive a qualifying direct deposit.
How To Set Up Your Tax Refund Direct Deposit
It's easy to request your tax refund as a direct deposit with the following methods:
1. Tax Software Filing: Just select direct deposit as your refund method through your tax software, and then type in your account number and routing number.
2. Paper Return Filing: Just type in your account number and routing number in the direct deposit line on your 1040 Form.
3. Tax Preparer Filing: Just tell your tax preparer that you want a direct deposit and provide them with your account number and routing number.
Split Your Tax Refund Direct Deposit between Multiple Accounts
You can split your tax refund and have it direct deposited in up to 3 different accounts, and this is a great way to qualify for multiple bank account promotions that require a direct deposit at the same time.
You can divide your tax refund into as many as 3 checking or savings accounts and up to 3 different U.S. financial institutions.
You can also deposit funds into your Individual Retirement Account and make Savings Bond Purchases to divide your refund.
You can easily split your tax refund using your tax software, or by using IRS Form 8888, Allocation of Refund if you file a paper return.
Rules for Using Tax Refund Direct Deposits to Qualify for Bank Account Rewards
Here are some details to consider if you are planning on trying to qualify for a bank account offer with a direct deposit of your tax refund.
1. Make sure that the checking account promotion does not require multiple direct deposits in order to qualify, so that you only need to make a single direct deposit (or you could attempt multiple direct deposits into a single account if needed – see Rule #6).
2. Check if there is a minimum amount required for your direct deposit to qualify, and then make sure that your tax refund will cover this minimum.
3. Many checking account promotions that require a direct deposit do indicate that government-initiated deposits will qualify, but double-check for this language in the fine print of your offer.
4. Your refund should only be deposited directly into accounts that are in your own name, your spouse's name, or both if it's a joint account (see Rule #5 also).
5. Some financial institutions do not allow a joint refund to be deposited into an individual account, so check with your bank or other financial institution to make sure your direct deposit will be accepted (if this applies to you).
6. No more than 3 electronic refunds can be deposited into a single financial account or prepaid debit card, and taxpayers who exceed the limit will receive an IRS notice and a paper refund.
7. A direct deposit of your tax refund may not meet the criteria as a qualifying direct deposit for all bank account promotions, depending on the terms of the offer, the particular bank or financial institution, and how strictly they review their direct deposits (please feel free to share your experiences with different banks in the below comments).
Probably one of the easiest bank promotions to meet the qualifications with a tax refund direct deposit would be the Chase Checking Promotions, just because their direct deposit requirements are very basic and not extremely restrictive as far as what can qualify.
Other good options to try would be these checking account offers from KeyBank, M&T Bank, PNC Bank, and Santander Bank, as they all have single direct deposit requirements as well with pretty low minimums.
If you aren't interested in a new checking account bonus, then you may also wish to consider this H&R Block 10% Federal Tax Refund Promotion to earn up to a 10% Amazon Gift Card bonus on your federal tax refund.
If you're in the market for a new checking account, consider using your tax refund direct deposit to qualify for a bank account promotion and earn some extra cash this tax season.