Check out these tax day promotions and special discount offers for 2017 tax day relief from a variety of merchants.
You can get various store discounts, restaurant savings, and freebie offers for tax day.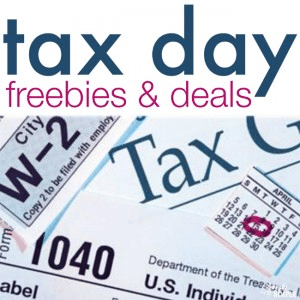 2017 Tax Day Relief Promotions
1. White Castle Tax Day Discount – Save 15% at participate White Castle restaurants through April 18th.
2. California Tortilla – Just say "TAX CRUNCH" to get your free chips and queso with any purchase on April 18th.
3. Great American Cookies Tax Day Offer – Free Birthday Cake Cookie for Tax Day on April 18th.
4. Schlotzsky's Tax Day Promo – On Tax Day, buy a medium fountain drink and bag of chips at participating locations and get a free small The Original sandwich.
5. Hard Rock Cafe – Get a free Legendary Burger from Hard Rock Cafe when you sign a song on stage on April 18th (call your local Hard Rock Cafe to ensure this offer is available).
6. Boston Market Tax Day Offer – Get a Half Chicken Individual Meal with 2 sides and cornbread plus a regular beverage and a cookie for $10.40 on April 18th. No coupon needed.
7. HydroMassage at Planet Fitness – From Saturday, April 15th – Saturday, April 22nd, consumers can receive a free HydroMassage at any Planet Fitness location. De-stressers need only bring in a coupon available on PlanetFitness.com (starting April 15th) before relaxing your cares away.
8. Bertucci's (Springfield Township, Delaware County, PA) – All Menucci (small pizzas) on the lunch menu will be available for $4.18 (normally $8.49). Dinner pizzas (choice of cheese, margherita, or pepperoni) will cost $10.40 each. There is a limit of 2 per order, good for dine-in or carryout.
9. Bruegger's Tax Day Coupon – Get a Big Bagel Bundle for $10.40 with a coupon from April 12th to April 19th at Bruegger's (coupon appears as a pop-up on their website).
10. Sonic Drive-In Tax Savings – Sonic Drive-In is offering half-price cheeseburgers all day on April 18th.
11. Office Depot Tax Day Coupon – Get 5 pounds of free shredding through April 29th.
12. Sonny's BBQ – Get a 1/2 price Sweet & Smokey or Dry-Rubbed Rib dinner with 2 sides and bread on April 18th.
13. Kona Ice – Kona Ice will be parked at post offices, tax preparation centers, and businesses nationwide to hand out free cups of tropical shaved ice and complimentary Hawaiian leis to all who stop by on April 18th. Give them a Tweet @KONAICE to find the nearest Kona Ice truck.
14. World of Beer – World of Beer usually offers a free draught beer or $5 off your bill at participating locations, so give yours a call for a free beer on tax day.
15. Arby's – Arby's is offering 2 Gyros for only $6 on tax day or free Curly Fries on tax day with no purchase required, but at select locations only, so give yours a call first.
16. Staples – Get 5 pounds of free shredding.
17. McDonald's – Buy 1 Big Mac or Quarter Pounder with Cheese and Get 1 for only 1 Cent at participating locations only (you may wish to call first) on April 18th.
18. Hot Dog On Stick – On Tax Day, Tuesday April 18, the iconic all-American brand known for its hand-stomped lemonade and made-to-order stick items is offering customers 1 free Original Turkey Dog on a Stick. No purchase or proof of completed taxes necessary.
19. Noodles & Company – As a celebratory treat for those filing online this year, Noodles is offering $4 off any $10 purchase placed through order.noodles.com from April 12th — April 18, 2017, using the code "TAXDAY17" at checkout.
20. Boston's Restaurant and Sports Bar – Get free wings at all Boston's Restaurant and Sports Bar locations in the U.S.A. on April 18th.
21. Hungry Howie's – Buy a large 1-topping pizza at menu price, get a medium 1-topping pizza for 15 cents. Available for online orders for carryout only. Must use Promo Code "Taxday" and be a registered user to receive the offer. Available April 17-19, 2017. Not valid in Florida.
22. Capriotti's – Get a free upgrade from small to medium size on all Capriotti's sandwiches on April 18th.
23. Bob Evans Farms – Get 30% off your entire purchase for dine-in or carryout on tax day.
24. Chuck E. Cheese's – Get a free large cheese pizza with the purchase of a thin and crispy pizza at Chuck E. Cheese's on tax day.
25. Cinnabon – Get 2 free Cinnabon bites on tax day at participating locations with no purchase necessary. You may need to be an eClub member to qualify, which is free to join, so call first to double-check the details.
26. Firehouse Subs – Get a free medium sub with the purchase of an additional medium or large sub, chips, and medium drink with this special coupon from Firehouse Subs.
27. Hooter's – Free kids meal offer is available for children 12 and under, and requires a purchase of $10 or more per accompanying adult for each free kids meal provided. For dine-in only.
28. Jet Blue – If you owe money to the IRS, you could win a free 1-way flight from Jet Blue.
Take advantage of these tax day freebies and tax relief promotions for savings from a variety of merchants.
Check out these Free Tax Filing Services as well if you haven't filed your taxes yet.
Please feel free to leave a comment below if you know of any other tax day promotional offers.