HomeSuite is an online marketplace for fully furnished homes and apartments for personal use or corporate housing in major cities across the U.S.A.
If you are visiting family, traveling for work, remodeling your home, looking for off-campus housing, or just making a transition to a new city, HomeSuite provides a solution to your housing needs.
Plus, when you sign up through this HomeSuite $100 Lease Discount Link (complete and submit referral form to qualify), you will receive a $100 discount when you sign a new lease with HomeSuite (or $100 Amazon Gift Card).
About HomeSuite Furnished Rentals Marketplace
HomeSuite is a licensed broker in all states of operation, and they require a 30-day minimum lease term by law.
HomeSuite Offers Rentals in the Following Cities:
San Francisco
Los Angeles
New York City
Manhattan
Brooklyn
Palo Alto
Santa Monica
Hollywood
West Village
Washington D.C.
Chicago
Seattle
Mountain View
Berkeley
Upper East Side
San Jose
You simply search by city and date, and HomeSuite will present options that best suit your needs.
They offer short-term, long-term, and month-to-month leases.
HomeSuite will take care of all the paperwork for you and make your move-in easy.
They accept all major credit cards and ACH bank transfers as payment methods.
How HomeSuite Rentals Work
Step 1: Either perform an Online Search of the HomeSuite marketplace or work with a dedicated HomeSuite Territory Manager to find the property of your dreams.
Step 2: Complete the tenant application and submit a $500 holding deposit.
Step 3: Sign the electronic leasing agreement through DocuSign.
Step 4: Submit the remaining security deposit and pay the first month's rent.
Step 5: The Customer Care team will send you a Welcome Email with all the information you may need for your stay, including how to obtain your keys.
HomeSuite $100 Lease Discount for First-Time Renters
Just click through this HomeSuite $100 Discount Link and submit the completed referral form to get a $100 discount when you sign a lease.
From time to time, HomeSuite will offer bigger bonuses to new renters in specific real estate markets, so you may save more during one of these promotions.
This $100 discount is for first-time HomeSuite renters only upon signing a new lease.
Please note that you may earn a $100 Amazon Gift Card instead of the $100 lease discount, depending on the reward being provided at that time.
If you prefer to talk with one of HomeSuite's Territory Managers about reserving a property, you can feel free to mention Referral Code JOHNOLIAK (provided by reader) to get your $100 lease discount.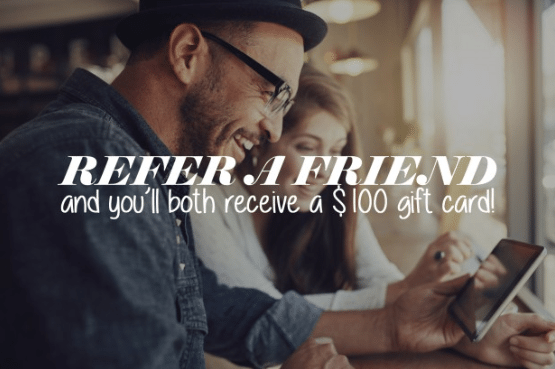 HomeSuite Referral Program $100 Amazon Gift Cards
When you refer a friend to HomeSuite, you'll receive a $100 Amazon Gift Card, and they'll receive a $100 discount when they sign a lease.
Just visit YourHomeSuite.com to access the referral programs for both renters and landlords at the top of their website.
You just need to fill out the form to receive your unique referral code and start sharing.
Anybody can participate, whether you are a HomeSuite client or not, as you don't need to be a current or former tenant to share a referral code.
If a friend uses your referal code when reserving a property with HomeSuite (or signs up via your referral link), you'll both receive a $100 reward.
There is also a HomeSuite Landlord Referral Program that will give you a $100 Amazon Gift Card for each landlord that you refer when their property is rented, but the landlord does not receive any type of incentive (landlords may mention code ZPDP upon sign up to help me earn a referral).
There are no limits to how many friends you can refer or how many gift cards you can receive.
If you are looking for short-term or longer rentals in fully furnished homes or apartments, check out the HomeSuite marketplace to make finding housing and moving in easy.