Plastiq allows you to use your credit cards and debit cards to make payments to any business, institution, or person who has provided goods or services in the U.S. or Canada, so that you can pay bills with your credit cards, which you otherwise couldn't, to earn extra rewards.
Plastiq is a great option to pay tuition, taxes, rent, utilities, insurance, and more whenever credit card payments are not accepted.
You'll have to pay a 2.5% fee to use the Plastiq service with your Visa, MasterCard, or American Express credit cards, which may not be worth while in all circumstances.
However, you can now participate in the Plastiq Rewards and Referrals Program to earn Fee-Free Dollars (FFDs), which is the amount of money that you can send via Plastiq without any fees.
Plastiq Payment Services $200 Fee-Free Dollars for New Customers
Just sign up via this Plastiq $200 FFDs Referral Link to get $200 Fee-Free Dollars in payments on Plastiq after you make a payment of at least $20.
You must first make a payment of at least $20 through Plastiq in order to have the $200 FFDs applied to your account.
You can then make $200 in Plastiq payments with no fees.
This offer is for new customers only.
Plastiq Rewards and Referrals Program
Plastiq's new referral program allows anybody who signs up for a free account to participate.
Just share your Plastiq Referral Link via email, social networks, and anywhere else you want.
For every person who registers with Plastiq via your referral link and makes a payment of at least $20, you will get $400 FFDs and that person will get $200 FFDs.
Please feel free to exchange referral links for Plastiq in the below comments, so that everybody can try to earn extra FFDs.
A special thank you goes out to The Travel Sisters for posting about this new referral program.
Using Fee-Free Dollars (FFDs) on Plastiq
Fee-Free Dollars (FFDs) correspond to how much money you can send via Plastiq without any fees.
FFDs may be applied to individual or recurring payments via the payment review screen.
Please note that if you do not use or earn FFDs for 90 days, your balance will be reset to zero.
1.75% Fee for Federal and State Tax Payments with MasterCard Credit Card
You can receive a special promotional rate of 1.75% for all federal and state tax payments with MasterCard credits cards through April 18, 2016.
The promotional rate applies to select taxes, which you can find listed at this Link.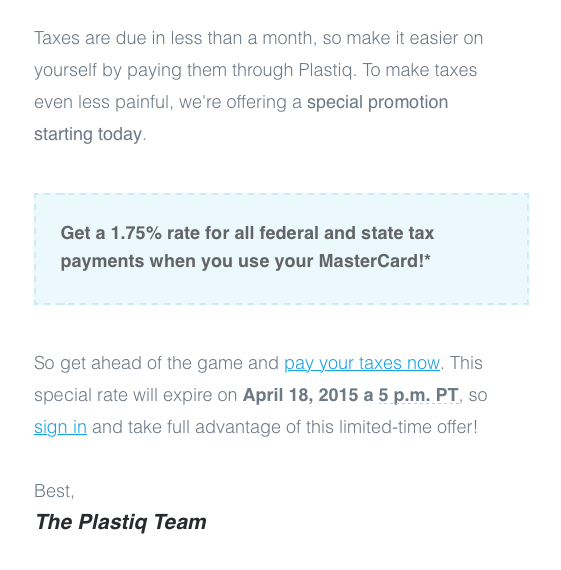 Please note that they messed up in the email notification and wrote 2015 instead of 2016, but I just received this offer on March 17, 2016, and it should be valid through April 18, 2016.
About Plastiq Payment Services
The great thing about Plastiq is that you can pay absolutely any bill with them, and not just a specific list of participating payees.
Plastiq sends the payment to your recipient in a form that everyone accepts, via check or electronic transfer, and no extra work is required by your recipient to receive Plastiq payments.
Your card payment will be processed and sent to your recipient in a form they accept within 24 hours of submission.
Nearly all Plastiq payments are treated as standard purchases, but it's important to note that in rare cases, certain issuing banks may charge cash advance fees for payments submitted through Plastiq.