IMPORTANT UPDATE: As of 6/26/2019, Coinstar stopped offering kiosks where you could sell gift cards for cash, and they now only offer coin counting machines. You can try the Cardpool Gift Card Exchange instead to instantly sell your gift cards for cash at local kiosks and stores across the U.S.A.
The new Coinstar Exchange kiosks allow you to sell your gift cards for instant cash at your local grocery stores.
If you need immediate cash for your gift cards from over 150 stores, then you can instantly exchange gift cards for cash right in your local grocery store at Coinstar Exchange kiosks.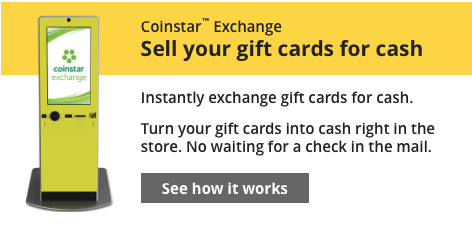 Coinstar Exchanges are completely different kiosks than the Coinstar Coin Counting Machines that count your coins in exchange for cash or gift cards.
The great thing about Coinstar Exchange kiosks is that you can instantly get cash for your gift cards.
Online services like Raise and Cardpool are a great way to sell your gift cards for cash, but if you don't want to wait for your gift cards to be sold and the money to go through, then Coinstar Exchanges provide an instant solution.
How Coinstar Exchange Works
1. Visit your nearest Coinstar Exchange Kiosk in grocery stores near you.
2. Scan or swipe your gift card and accept their cash offer.
3. Verify your identity with your mobile number, driver's license or valid state-issued ID, credit/debit card, and email address.
4. Insert your gift card ($20 minimum value required).
5. Print your voucher to redeem for cash at the in-store customer service center.
Coinstar Exchange accepts gift cards from more than 150 stores and restaurants, and you can review the List of Accepted Gift Cards, which is updated on a regular basis.
You can sell more than 1 gift card at a time, and the kiosks are located in grocery stores where you already shop.
Please note that Coinstar Exchange kiosks operate during your local store's customer service hours, so that you can get immediate cash.
In addition, if you live in Boston, they are offering a special new online option to sell your gift cards and get cash today.
Take advantage of the new Coinstar Exchange to get instant cash for your gift cards at your local grocery stores.