Dobot will no longer be available after June 30, 2021, as they are closing their service.
The Dobot free savings app for iOS and Android has been relaunched by Fifth Third Bank to help you easily save money for your financial goals with no fees.
Get a $5 Bonus to Join Dobot: Just click this Dobot $5 Referral Link and enter your phone number to earn a $5 bonus when you sign up and start saving with Dobot ($5 bonus is instantly credited after initiating first transfer).
You simply create goals for the things you want, like a vacation, home improvement project, student loan or anything else, and Dobot automatically sets aside safe savings amounts as you can afford it to help you reach your goals.
It's 100% free to use Dobot with no fees, and you can withdraw your money at any time, so there are no commitments.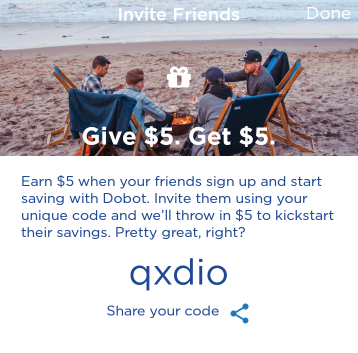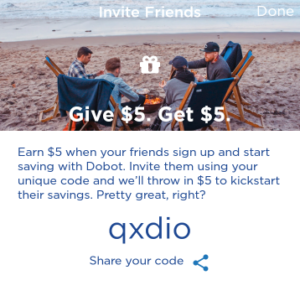 How Dobot Free Savings App Works
Create as many goals as you like, for a travel destination, home improvement project, student debt, or anything else.
Easily set your goals by giving them a name, a dollar amount, and deciding when you'll need it.
Simply connect your checking account and Dobot's algorithm goes to work to make savings easy and automatic.
Dobot analyzes your spending patterns and calculates "safe savings amounts" every few days that ensure you have enough money to meet your spending needs while still saving.
You can always save how you want and use either automated savings or manual deposits.
Your savings are secured in an FDIC-insured bank account, and you're protected from overdrafts (if Dobot does cause an overdraft, they'll pay the fees).
Dobot is 100% free to use and now powered by Fifth Third Bank.
Get Dobot $5 Sign-Up Bonus
1. Visit this Dobot $5 Referral Link and enter your mobile phone number.
2. Download the Dobot App and create a free account in seconds.
3. You must use the same mobile phone number to verify your new account in order to qualify for the referral bonus.
4. Create your first savings goal and link your bank account with the Dobot App.
5. Use the "Kickstart Your Savings" feature during registration to transfer $5 from your linked bank account to Dobot.
6. Your $5 bonus will be instantly credited to your Dobot account after you initiate your first transfer of funds.
7. You can withdraw all of your money at any time for free (including the $5 referral bonus).
Dobot Give $5, Get $5 Referral Bonus
Dobot's new referral program provides both parties with a $5 bonus when your friends sign up and start saving with Dobot.
When your friends use your referral link to sign up for Dobot and start saving, you'll both earn a $5 bonus.
Your $5 referral rewards will be deposited into your Dobot account within 30 days of completion of the sign-up process by each qualifying referee.
You are limited to 100 referral rewards per calendar year.
Please feel free to share your experiences with using the Dobot App along with your referral links in the comments below this article.