TopCashback runs freebie promotions on a regular basis that provide you with a free item at a participating merchant after you purchase the item and receive the equivalent amount of cash back earnings from TopCashback.
Basically, you must purchase an item through the TopCashback network, and then TopCashback will reimburse you via cash back earnings that equal or exceed the cost of your purchase.
Free Blue Diamond Dark Chocolate Almonds from Walmart – New TopCashback Members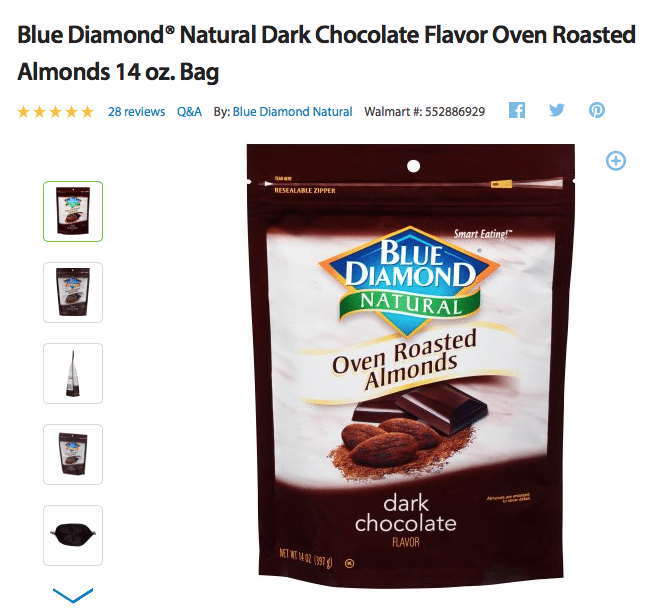 New TopCashback members can get a Free Blue Diamond Dark Chocolate Almonds from Walmart, available nationwide.
How To Get Free Blue Diamond Dark Chocolate Almonds:
1. Join TopCashback and sign up for a free account.
2. Once you've successfully signed up, you'll be redirected to the Walmart Freebie offer page. Click "Get Cashback Now."
3. Purchase 1 Blue Diamond Dark Chocolate Almonds package priced at $7.35 on Walmart.com (free in-store pick-up available).
4. Within 7 days, your account will be credited with your free $8.10 in cash back.
Please note that only NEW TopCashback members are eligible for this promotion.
This offer is for new members, but TopCashback does not limit accounts to 1 per household, so you can get your partner, parents, roommates, neighbors, co-workers, or anybody else to qualify.
When Will You Receive Your Cash Back from TopCashback?
Within 14 days, the cash back earnings that you receive from these freebie deals should turn payable and can be credited straight to your checking or PayPal account.
Alternatively, you could opt to be paid in an Amazon.com Gift Certificate with a 3% Bonus to maximize your cash back rewards, if you like to shop on Amazon.com.
You could also opt to be paid in an American Express Reward Card, which gives you a 6% bonus for a limited time.
Important Note About TopCashback's Freebie Deals
When shopping for a TopCashback freebie offer, your transactions must only contain 1 of the items that is being reimbursed in order for you to be properly credited the correct amount in cash back earnings.
If another item is purchased or additional items are purchased at the same time, the cash back amount awarded will be 10% or less (depending on the items purchased) instead of the promotional amount that is equal to or exceeds your purchased item.
Current members can also participate in the TopCashback Referral Program to earn a $10 reward for each new member that you refer.