Google Shopping Express is offering 3 months of free, unlimited same-day delivery on eligible orders over $15, plus you can get $15 off your first order.
Google Shopping Express offers free same-day delivery on eligible orders over $15 when you shop at national, regional, and local stores either online or via the Google Shopping Express mobile app.
Just click on this $15 Google Express Discount Link and apply your $15 discount at checkout to get your savings.
This service is currently available in many cities across the U.S.A. including but not limited to San Francisco, the Peninsula, San Jose, West Los Angeles, Manhattan, Chicago, Boston, Washington D.C., and many others.
Google Shopping Express Free Trial Offer
For a limited time, you can get 3 months of free, unlimited same-day delivery on eligible orders over $15 when you sign up for free membership.
To get started, visit google.com/shopexpress to sign up for an account.
You can also just start shopping, and you will be given the option to register for an account and receive your free trial during checkout.
You are eligible if you are new to Google Shopping Express, are 18 years or older, are a resident within their delivery area, and you keep your account in good standing.
You will be charged for membership after the 3-month free trial period ends at either $10 per month or $95 per year, and you will not be notified when your free trial ends, so make sure that you keep track of your free trial time period.
You can suspend your participation in Google Shopping Express before the promotional credit amount is exhausted if you do not wish to receive additional delivery charges.
There is a limit of 1 free trial per customer.
$15 Google Shopping Express First Order Discount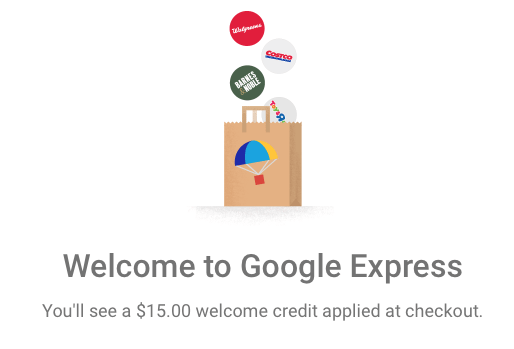 You can also get a $15 discount off your first Google Express order, in addition to signing up for the 3-month free trial.
Just sign up via this Google Express $15 Referral Link to get a $15 welcome credit that you can apply at checkout.
Please note that when you click through the Google Express $15 Referral Link, the $15 discount will appear during checkout, but you must manually click the "Apply" button to add the discount to your order during checkout for you to receive the $15 savings.
You can also enter the Google Express Referral Code FZHXNH36G during checkout to get your $15 discount.
This offer applies only to your first purchase, even if it's less than the coupon value.
The $15 credit is valid for 180 days after opening while your account is active.
Alcohol, gift cards, membership costs, shipping, and service fees are excluded.
You will be charged for all purchases that exceed the promotional credit.
Google Shopping Express Referral Program
The Google Shopping Express refer-a-friend program will provide you with a $15 referral credit for each new customer that you refer after they place their first order.
You can give your friends a $15 free credit to use, and you will get a $15 credit when they use it, so everybody benefits.
The referral program is available only to Google Shopping Express members or other customers that purchased at least 1 item through Google Shopping Express.
Google Express sends out referral codes via email to customers randomly after you make your first purchase, so not everybody will receive access to the referral program.
However, it seems like most new members will receive your own referral code in an email within 1 week of making your first purchase.
Each valid referral gets you a $15 referral credit for up to 10 referrals or $150 in referral bonuses total (referral reward amount may vary).
If you live in the Bay Area, you can also get a $10 discount off groceries with the Instacart Grocery Delivery Service including free delivery.