TopCashback runs freebie promotions on a regular basis that provide you with a free item at a participating merchant after you purchase the item and receive the equivalent amount of cash back earnings from TopCashback.
Basically, you must purchase an item through the TopCashback network, and then TopCashback will reimburse you via cash back earnings that equal or exceed the cost of your purchase.
Spend $5 Get $5 at Groupon – New TopCashback Members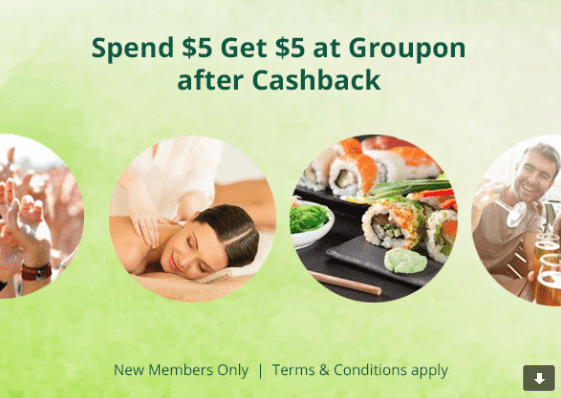 New TopCashback members can get $5 in Free Spend at Groupon when you spend $5 at Groupon and get $5 in cash back from TopCashback, valid through August 13, 2017.
Just purchase any Groupon (see below for exclusions) for $5 or more at Groupon via the custom TopCashback Offer Page, and you'll get $5 in cash back.
Please note: Cash back is not eligible on purchases through Groupon Freebies, Groupon Reserve, Groupon Invitation Only Deals, Donations, Groupon Epic Deals, Market Picks and purchases of Groupon Gift Cards or Groupon eGift cards. Groupon Student Program sales will not be eligible to receive commission.
How To Get Free $5 Spend at Groupon:
1. Join TopCashback and sign up for a free account, or simply visit the promotional page if you are already a member.
2. Once you've successfully signed up or logged in, you'll be redirected to the Groupon offer page. Click "Get Cashback Now."
3. Purchase any Groupon for $5 or more, plus add anything else that you want to buy and checkout.
4. Within 14 days, your account will be credited with your free $5 in cash back.
Please note that only NEW TopCashback members are eligible for this promotion.
However, TopCashback does not limit accounts to 1 per household, so you can get your partner, parents, roommates, neighbors, co-workers, or anybody else to qualify.
When Will You Receive Your Cash Back from TopCashback?
Within 14 days, the cash back earnings that you receive from these freebie deals should turn payable and can be credited straight to your checking or PayPal account.
Alternatively, you could opt to be paid in an Amazon.com Gift Certificate with a 3% Bonus to maximize your cash back rewards, if you like to shop on Amazon.com.
You could also opt to be paid in an American Express Reward Card, which gives you a 6% bonus for a limited time.
Important Note About TopCashback's Freebie Deals
Anyone taking this deal can now add other items to your shopping cart.
You will still get the full cash back as long as your total spend meets the minimum amount or more after clicking your link and completing an online order at Target.
This means that new members who want to fill your cart with more items can just shop as you normally would and enjoy the sweet discount with your full cash back
Current members can also participate in the TopCashback Referral Program to earn a $10 reward for each new member that you refer.