Purefy (formerly CordiaGrad) helps you save money by refinancing your high-interest student loans, including federal, private, and Parent PLUS student loans, into a single Purefy loan with 1 easy monthly payment.
Just complete the quick Purefy Online Application to review your 5 rate options and refinance your student loans today.
Plus, anybody can participate in the Purefy refer-a-friend program to earn a $200 bonus for each referral that you provide who closes on a loan.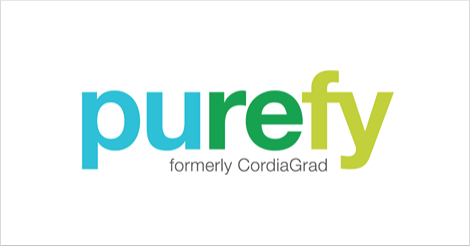 About Purefy Student Loan Refinancing
Purefy offers a simple way to refinance your federal, private, and Parent PLUS student loans.
You complete an online application in less than 15 minutes to receive access to 5 different loan rates and payment plans.
Purefy provides a minimum loan amount of $20,000 and up to a maximum of $350,000.
There are no pre-payment penalties, origination, or application fees with Purefy.
You must be out of school and have at least 2 years of employment to be eligible for a Purefy loan, with the exception of borrowers with degrees in MD, DO, and DDS, who are not subject to the 2-year employment minimum.
Cosigners are not necessary, but they can improve your interest rate, and parents can refinance your loans too.
Purefy Refer A Friend Program $200 Bonus

You can earn a $200 bonus for each new borrower that you refer to Purefy who closes on a loan.
This Purefy Referral Program is available to anybody who creates a free account.
You don't have to be a Purefy borrower in order to refer new borrowers and earn the $200 bonus.
Just create a free account at Purefy to access your unique referral link within the referral dashboard.
For every closed loan that you refer to Purefy, you will receive a $200 bonus via PayPal or Dwolla.
There are no limits to what you can earn.
In order to earn a $200 referral payment, you must:
Refer a borrower who is eligible for a Purefy Student Refinance Loan.
Be a U.S. citizen, permanent resident, or resident alien with a valid U.S. Social Security Number residing in the United States.
You are not required to have a loan or account with Purefy in order to be eligible to refer friends to Purefy.
Current employees and directors of Purefy along with their immediate families
(parents, children, siblings, and spouses) are not eligible.
Current employees of Purefy vendors are not eligible.
You will not receive credit for referring yourself.
$200 Bonus Reward Payment
When your referral's Purefy loan is disbursed, you will receive a payment of $200.
Payments will be made within 5 days of your referral's loan being disbursed.
Purefy will either fund the $200 to your PayPal account or Dwolla account, whichever is selected in your Purefy Referral Program profile (paper checks can also be sent upon request).
If you refer 4 or more friends, Purefy will issue you a 1099-MISC form for your tax return.
Receive 0.50% Interest Rate Discount with Purefy Checking Account
If you open a Purefy Checking Account, you will be eligible to receive a 0.50% discount on your student loan interest rate.
Purefy Checking Accounts provide Bill Pay, mobile deposits, online banking, text banking, free ATMs nationwide, and an app to manage your money.
You must use the Purefy Checking Account to auto-draft your monthly student loan payment in order to be eligible for the discount.
You may actually use a checking or savings account from any U.S. institution to auto-draft your loan payment and earn a 0.25% discount on your rate.
However, when you sign up for auto-draft with a Purefy Checking Account, you'll receive a 0.50% interest rate discount, so the savings are even bigger.
Share $200 Purefy Student Loan Referral Bonuses with Friends
One downfall of the Purefy refer-a-friend program is that it only provides a $200 bonus to the referrer, while the referee who closes on a loan does not receive any type of incentive to use a referral.
However, since the Purefy bonus of $200 is so large, it could easily be split between the referrer and referee for $100 each.
If you or your friends are looking to refinance your student loans, just refer each other to Purefy, so that one of you earns the $200 bonus, and then you can split the money for a $100 bonus each.
Please feel free to exchange Purefy referrals with other readers in the comments below this article as well.
Check out these additional bonuses for student loan refinancing from SoFi, Credible, and CommonBond for more options to earn extra cash while consolidating high-interest student debt.