The A&W Restaurants Mug Club will give you a free A&W Root Beer Float for your birthday and other exclusive monthly offers like A&W coupons and special deals.
You must be 13 years or older to Join the Mug Club, and it is free to join.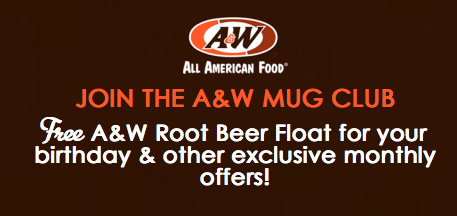 The A&W Root Beer Float consists of a frosty cold mug of world-renowned A&W Root Beer topped with their signature creamy vanilla soft serve.
It's pretty much enlightenment in a frosty mug and worthy of standing amongst the Best Birthday Treats of our time.
Unfortunately, you don't receive any type of immediate freebie or coupon for joining the A&W Mug Club, like you do when you sign up for the myDQ App, which offers you a free blizzard treat, while the A&W Burping Rooty App just burps the alphabet.
So if you're looking for an immediate coupon to save at A&W today, then you're out of luck, unless it's your birthday.
In that case, sign up for the Mug Club to get a free A&W Root Beer Float on your birthday every year.