The BurgerFi Frequent Fi-Er Loyalty Program is currently offering all new members an order of Free Regular French Fries ($3+ value) just for joining with no other purchase necessary at all participating BurgerFi restaurant locations.
BurgerFi has over 100 locations across the U.S. serving 100% all natural Angus burgers, beef hot dogs, fries, onion rings, custard shakes, soda, wine, and craft beer.
You can easily order your free french fries online or in the app with no additional purchase, and then pick them up in minutes while you're on the go, or you can stop in and get free fries with a burger or hot dog for a full meal.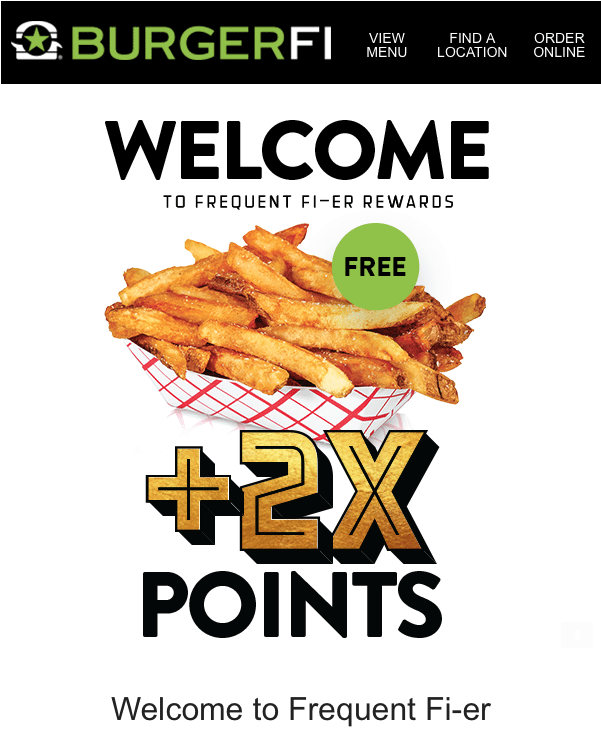 How To Get Free French Fries at BurgerFi
1. Register for a free BurgerFi Frequent Fi-Er account (you can register online without a card).
2. After you register, the "1 Free Regular Fry" offer will be added to your account.
3. Place an order on the BurgerFi.com website or in the BurgerFi App and add 1 Regular Hand-Cut Fries to your order (you must log in using your same rewards account credentials).
4. During checkout, you should see the "Free Fry" reward available under the Frequent Fi-Er section, and simply click the "Apply Reward" button to get your free french fries.

5. Then complete checkout and pick up your free fries at your local BurgerFi restaurant in a few minutes.
There is no additional purchase required to redeem your free Regular French Fries, so this is a great way to get a snack on the go or to get free fries with your burger or hot dog if you are looking to make a full meal of it.
Check out your Local BurgerFi Restaurant Location to place an order today and get your free fries.
About BurgerFi Frequent Fi-Er Loyalty Program
As a Frequent Fi-Er member, you'll earn 1 point for every $1 that you spend on each visit to a BurgerFi restaurant location.
Once you reach 50 points, you'll receive a $5 rewards toward your next visit at BurgerFi.
Plus, you'll receive exclusive offers and promotions such as double point days, birthday rewards, and more.
Take advantage of this offer to get a free regular-size french fry when you join the Frequent Fi-Er Loyalty Program for BurgerFi restaurants.