I visited my local Dairy Queen the other day and realized that they are now offering a Receipt Survey that you can complete to receive a Buy One Get One Free Smoothie or Sandwich #5.
I love these receipt survey promotions and have written extensively about them from multiple restaurants, including Culver's, KFC, Jack in the Box, Famous Dave's, Popeyes, Wendy's, Arby's, McDonald's, White Castle, and Burger King.
You simply make a purchase at your local Dairy Queen restaurant, and on the bottom of your receipt, they will provide you with a special coupon if you complete a short survey.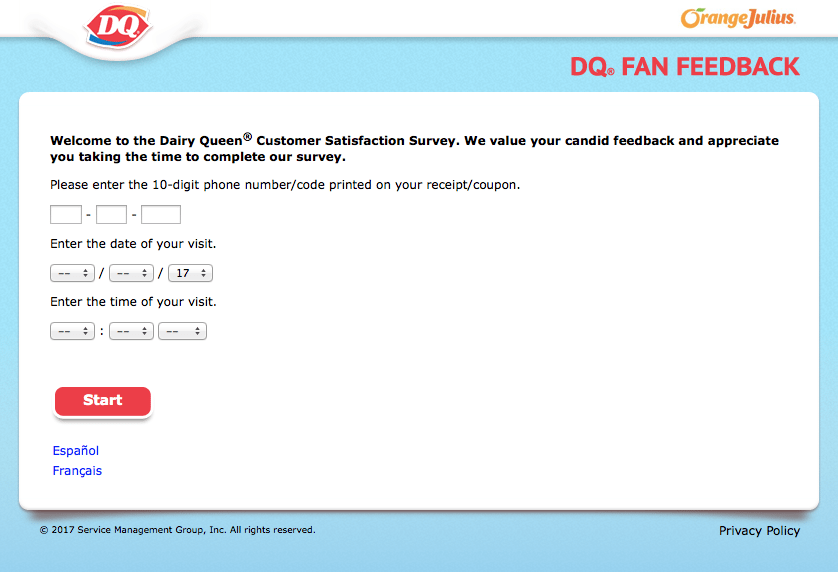 How To Get Your Dairy Queen Receipt Survey Coupon
1. Visit your local Dairy Queen and make any purchase.
2. Check the bottom of your receipt for a special coupon offer.
3. Visit www.dqfanfeedback.com to start your survey.
4. Enter the required information to start your survey and complete all of the questions.
5. At the end of your survey, copy the special code that they provide you and write it down on your receipt.
6. Return to Dairy Queen within 30 days of completing the survey to redeem your coupon code.
My coupon was for a BOGO #5 Sandwich or Small Smoothie, but the coupon offers may vary between different locations.
Plus, when you redeem your DQ Receipt Survey coupon, you will receive another receipt from your order, which will contain another survey offer, so you can do this perpetually to receive BOGO smoothies or sandwiches every time you visit Dairy Queen.
You can also sign up for the Dairy Queen Blizzard Fan Club to get a BOGO free Blizzard Treat coupon upon joining and every month thereafter.
You can download the myDQ App as well to get a free small Blizzard on your next visit.
If you love Dairy Queen, take advantage of this promotion to get a special coupon when you complete a survey about your visit.