The Red Robin Royalty Program has really stepped up its game and is now offering a $20 bonus credit toward your 6th visit as well as every 10th item free and a free birthday burger.
If you like free burgers and you live anywhere near a Red Robin restaurant, then you'll definitely want to sign up for the free Red Robin Loyalty Program.
I've been a member for a while now, and they did not offer the $20 bonus on your 6th visit when I joined, so that's a new promotion that I just noticed is available.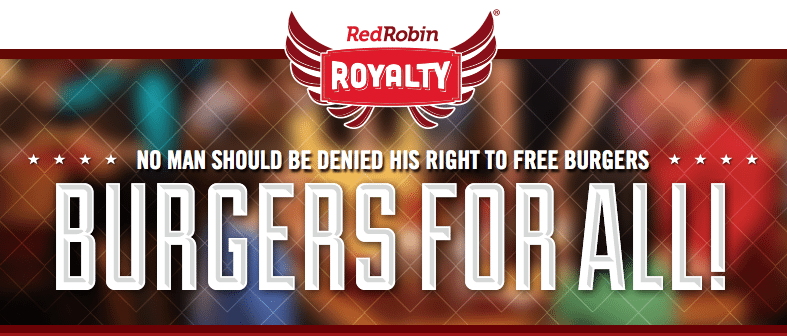 Benefits of Red Robin Royalty Program
Free Birthday Burger – Choose from over 24 Gourmet Burgers for 1 Free Burger during your entire Birthday Month.
Every 10th Item Free – Mix and Match Burgers, Salads, Sandwiches, and Entrees.
$20 toward 6th Visit – When you visit 5 times in the first 5 weeks. A visit is a purchase including a burger, entrée, full-sized salad, or sandwich.
Burgers for Better Schools – Pick your school and 1% of what you spend at Red Robin will be donated throughout the year (U.S. Only).
Special Military Offers – Special savings for Active Military and Veterans (U.S. Only).
Exclusive Savings – Access Special Offers and Deals throughout the year.
Check out the Red Robin Royalty Program to register for a free account today, and they'll probably even send you a special deal to get you started.
Just make sure that you're ready to make 5 visits in the first 5 weeks after you join, so that you can qualify for the $20 credit toward your 6th visit.
Not only will you get the $20 credit to use on your 6th visit after making 5 qualified visits, but those 5 visits will get you at least 5 items closer to your 10th item free.
If you were to buy 2 burgers during each of those 5 visits, for you and a friend, you would then have also met the qualification for your 10th item free.
Take advantage of the Red Robin Royalty Program if you live near any of their participating restaurants, because you'll definitely at the very least want a free burger on your birthday.