Dealspotr is a deal sharing community where you can find the best deals, discounts, and savings from tons of popular stores, plus you can share deals to earn points toward $10 Amazon Gift Cards.
Just sign up via this Dealspotr 5,000 Points Referral Link to get 5,000 bonus points ($5 value) instantly added to your new Dealspotr account.
Once you earn a total of 10,000 points through sharing deals, liking deals, commenting on deals, and participating in the community in other ways, you can redeem your points for a $10 Amazon Gift Card.
Dealspotr is similar to other deal exchange forums, like FatWallet and Slickdeals, except that Dealspotr actually pays you to submit deals and participate in their community of deal enthusiasts.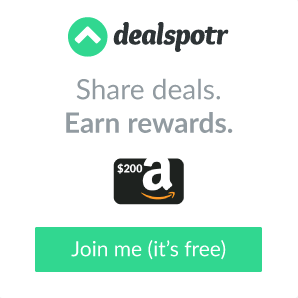 Earn 5,000 Bonus Points to Join Dealspotr
Create a free account via this Dealspotr 5,000 Bonus Points Link to get 5,000 bonus points instantly added to your new account.
You must click on the above referral link or use the Promotional Code FLAILIAK when creating your Dealspotr account in order to receive the 5,000 bonus points.
You'll have to earn a total of 10,000 points in order to reach the minimum $10 Amazon Gift Card payout.
However, there are lots of other ways to earn Dealspotr points for participating in the community.
How To Earn Dealspotr Points
Dealspotr lets you earn points for being a helpful member of the community, and you can trade your points in for Amazon Gift Cards.
Earn Points for the Following Activities:
Sharing Deals.
Spotting (Curating) Deals.
Flagging Invalid Deals.
Referring New Members.
Making Helpful Comments.
You can earn from 30 to 800 points just for sharing a deal, depending on how hot the deal is, and you'll get points for all types of other activities.
However, be careful, because you could lose points for activities that are deemed as unhelpful for the community.
Dealspotr Referral Program
Dealspotr provides you with a personal promo code and referral link, along with a set of badges and buttons if you have a website or email signature, that you can use to gain referrals.
Whenever a new member joins using your link or code, they become your referral, and you'll earn 10% of the lifetime points that they earn.
Your referral code also gives your referrals a free 1,000 points when they join (only "Influencers" can give 5,000 points).
You'll earn 10% of the points generated by all your referrals over the lifetime of their accounts.
That means if you refer deal enthusiasts who become avid users of Dealspotr, you can earn recurring rewards that will quickly add up to many free gift cards.
Please feel free to exchange Dealspotr referral links in the comments below this article.
Dealspotr Influencer Program
If you are a blogger, you can apply to become an Influencer, which gives you access to even more earning power.
Influencers can give 5,000 bonus points ($5 credit) to new referrals, instead of only 1,000.
Influencers earn 2,000 bonus points ($2 credit) for each referral that you make, instead of only 1,000 points.
You'll also earn 20% lifetime points for your referrals, instead of only 10%, and you can earn double points for posting deals on Dealspotr.
Once you create your Dealspotr account, you can qualify for Influencer status under the "Influencer Tools" section of your account dashboard.