Paribus monitors your shopping purchases and automatically submits price adjustment claims on your behalf to get you money back.
Some stores guarantee money back when prices fall, so Paribus automatically gets you money back when prices drop, you miss a better deal, or you miss a coupon.
In exchange for this service, Paribus charges 25% of what they earn for you, and if they are unsuccessful, there is no charge.
If you shop at Amazon.com, Walmart, or other major stores on a regular basis, then Paribus is a great way to monitor your purchases and get money back when prices drop after you buy an item.
How Paribus Works
To participate, you must connect your email and let Paribus identify purchases within your inbox.
You then simply shop as you normally do, and Paribus will monitor your email for any opportunities to get money back on your purchases.
Whenever you are eligible, Paribus automatically files price adjustment claims on your behalf.
Paribus works at Amazon.com, Walmart, Gap, Best Buy, and a variety of other supported stores.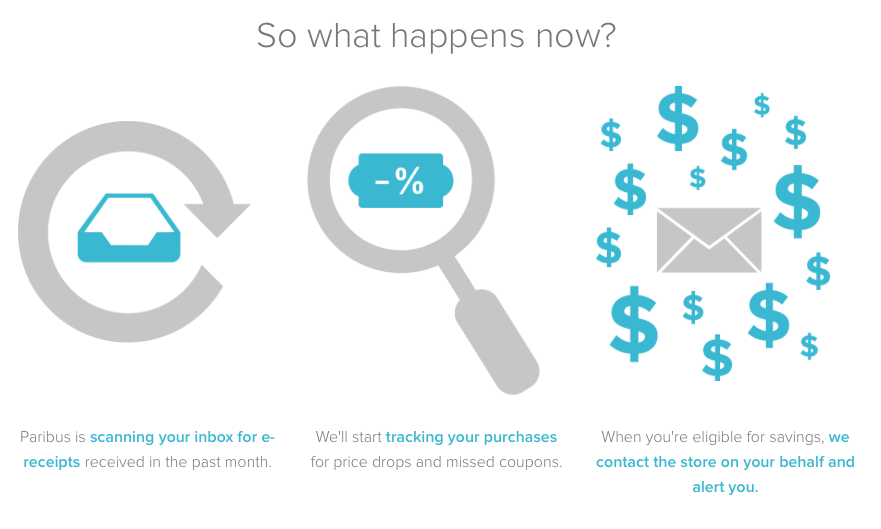 Paribus Supported Merchants
Amazon.com
Bloomingdales
Macy's
Best Buy
Sephora.com
Newegg
Staples
Target
Bonobos
J.Crew
Zappos.com
Nordstrom
Banana Republic
Gap
Old Navy
Athleta
PiperLime
Walmart
5% Fee Decrease for New Paribus Customers – From 25% to 20%
When you sign up via this Paribus Referral Link, you can get 5% off your Paribus fee.
That means Paribus will only charge you 20% of the money that they earn for you from price adjustment recoveries instead of 25%.
Additionally, you can refer more friends to Paribus to decrease your fees even more or get their service for 100% free.
Paribus Referral Program
The Paribus refer-a-friend program lets you give your friends a 5% fee decrease when they sign up for Paribus via your referral link.
Plus, you can get a 5% fee decrease for each new Paribus user that you refer.
Just share Paribus with your friends, and they'll cut both of your fees by an extra 5%.
After signing up via a referral link, you'll have a 20% fee (regularly 25%), so you only need to refer 4 more people to have no fees and receive Paribus services for free.
Please feel free to share your Paribus referral link in the below comments, and you can also share Paribus via Facebook, Twitter, and other social networks.
A special thank you goes to Out and Out for posting about this opportunity.
Give Paribus a try to automatically receive cash back when the prices of your shopping purchases drop.