VNYL is an online record store and monthly subscription service that will hook you up with dope records each month based on your personal profile and musical tastes.
Plus, you can get a $10 VNYL Store Discount at their members-only store when you use Invite Code: EG6TPXGFYH and register for a paid VNYL subscription today.
Updated April 4, 2017: Please note that the Invite Code posted in this article may be for 1-time use only. If you would like to receive a unique Invite Code for your $10 discount, please feel free to email me at MaximizingMoney@gmail.com to request your code.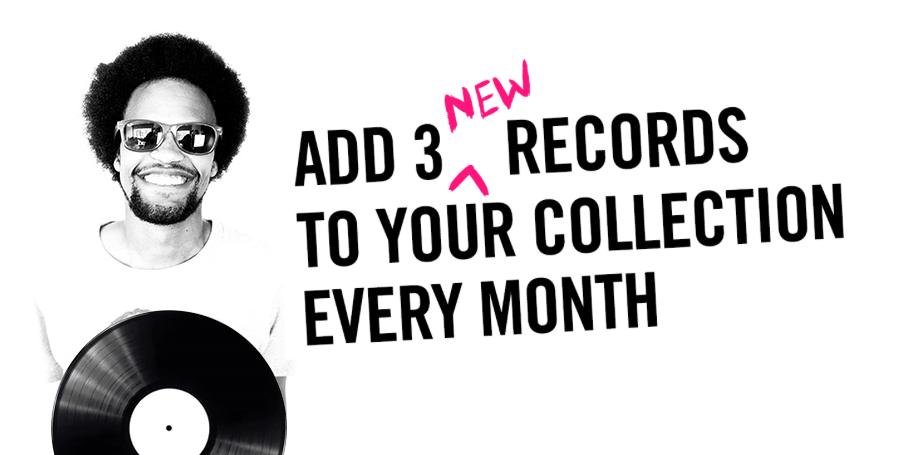 VNYL Subscription Plans and Prices
There are 4 VNYL monthly subscription plans available:
Solo – 1 Record Per Month – $22 Per Month.
Trio – 3 Records Per Month – $36 Per Month.
Triple Triple – 9 Records over 3 Months (3 Per Month) – $99 Total.
#BFF – 36 Records over 1 Year – $420 Total.
How To Get $10 VNYL Record Store Discount
1. Use Invite Code: EG6TPXGFYH when you create a free account at VNYL.org.
2. Become a paid member by selecting a subscription plan.
3. Get a $10 discount to buy records in the VYNL members-only store.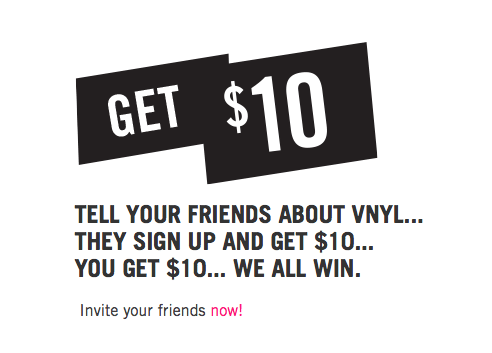 VNYL Referral Program $10 Store Credits
Once you create a free VNYL account, you can participate in the VNYL refer-a-friend program.
VNYL will give you and your friends $10 each to spend on records in the members-only store when your referrals become paid members.
There is no limit to how many $10 discount credits you can earn by referring your friends.
You can refer people via email from within your VNYL account or by sharing your own unique invite code.
Records Currently Available in VNYL Online Record Store
The VNYL online store offers new vinyl releases at low members-only prices with free shipping on all orders.
Adele – 25
Spoon – Gimme Fiction
Dr. Dre – Compton
Justin Bieber – Purpose
Wilco – Star Wars
Kendrick Lamar – To Pimp A Butterfly
Led Zeppelin – Houses of the Holy
D'Angelo – Voodoo
Death Cab For Cutie – Transatlanticism
Many Other Titles Available
You can also check out Vinyl Me, Please to get more records and earn free vinyl for referring your friends.
Check out VNYL to build your record collection and get discounts on new vinyl for referring your friends.