The TD Cash Rewards Visa Credit Card is offering 5% cash back for the first 6 months with no annual fee.
Plus, you'll earn a $200 cash back bonus when you spend $1,500 (increased from prior $500 spending requirement) within the first 90 days, available through January 4, 2016.
You must be an existing TD Bank customer in order to qualify for this credit card, and you must live in the following 16 states: Connecticut, Delaware, Florida, Maine, Maryland, Massachusetts, New Hampshire, New Jersey, New York, North Carolina, Pennsylvania, Rhode Island, South Carolina, Vermont, Virginia, and Washington D.C.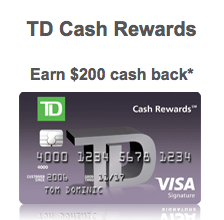 You'll earn 5% cash rebates on eligible purchases including dining, groceries, and gas as well as cable, phone, and utility bill payments for 6 months.
Plus, you'll earn 1% on all of your other purchases with unlimited rewards that never expire.
You can redeem your cash rebates for a statement credit at any time once you've earned at least $25 in cash back rewards.
Check out this TD Cash Rewards Card Offer to apply online today.
There is no annual fee for this card offer.
This card is issued by TD Bank, so it's a good option if you already have cards from other major issuers.
Earning 5% cash back for 6 months is a good deal, especially on necessities like gas, groceries, and utilities, but the 1% rebate thereafter is probably not as high as you can earn elsewhere.
You may wish to consider one of these Rotating 5% Rebate Credit Cards as well to earn 5% throughout the year in select rotating purchase categories.
Sign up for the TD Cash Rewards Visa Credit Card to earn 5% cash back on select purchases for the first 6 months.