The Ebates cash back shopping network is currently offering a $10 Gift Card bonus when you open a new account and spend $25 or more at your favorite store.
Plus, you can earn $50 when you refer 2 of your friends with the special Tell-A-Friend promotion from April 1st to June 30, 2016.
Ebates is a free network that allows you to earn cash rebates when you shop online from a huge variety of popular retailers.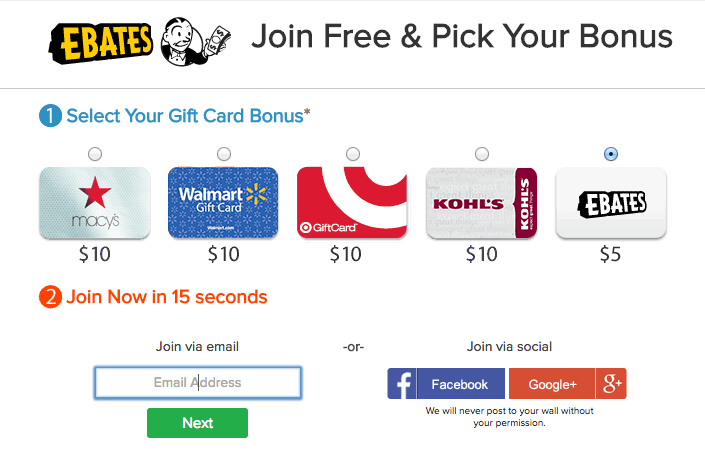 Ebates $10 Gift Card Sign-Up Bonus
Get a $10 Gift Card from Ebates when you open a free Ebates account and make a qualifying purchase.
You should see the $10 gift card promotional page at the above referral link.
The $10 bonus gift card will be earned after your first $25 purchase through the Ebates shopping network.
You can earn a $10 gift card from Macy's, Walmart, Target, or Kohl's.
You can also opt to receive $5 in cash rewards from Ebates instead of a gift card.
Ebates Referral Program
The standard Ebates referral program offers you a $5 bonus credit for each new member that you refer.
A qualified referral is a new member of Ebates that signs up for a free account and makes purchases totaling $25 or more that earn cash back within 1 year of joining.
Ebates will pay you $5 for each referral.
Ebates Offering $5 to $25,000 in Referrals
Ebates is running a special referral promotion for bonus referral credits that runs from April 1st to June 30, 2016.
You can receive from $40 to $20,000 in extra referral bonuses when you refer your friends during the promotional period, and that's on top of the regular $5 referral bonus per person.
You'll receive a $40 bonus when you refer 2 people for a total of $50 in rewards, plus you can earn even more beyond that.
Full Referral Bonus Breakdown:
2 referrals x $5 + $40 bonus = $50 total
10 referrals x $5 + $100 bonus = $150 total
25 referrals x $5 + $275 bonus = $400 total
50 referrals x $5 + $600 bonus = $850 total
100 referrals x $5 + $1,500 bonus = $2,000 total
200 referrals x $5 + $3,000 bonus = $4,000 total
300 referrals x $5 + $4,500 bonus = $6,000 total
400 referrals x $5 + $6,000 bonus = $8,000 total
500 referrals x $5 + $7,500 bonus = $10,000 total
600 referrals x $5 + $9,500 bonus = $12,500 total
700 referrals x $5 + $11,500 bonus = $15,000 total
800 referrals x $5 + $13,500 bonus = $17,500 total
900 referrals x $5 + $15,500 bonus = $20,000 total
1,000 referrals x $5 + $20,000 bonus = $25,000 total
Earn $2,000 for every additional 100 referrals after 1,000.
Review the Ebates Tell-A-Friend Promotion to access your referral links and additional details about this offer (account login required to access referral info).
A qualified referral is a new user to Ebates referred by you who makes a purchase of $25 or more earning cash back.
To qualify for the special bonuses, your referrals must make a qualifying purchase of $25 or more between 4/1/2016 and 6/30/2016.
Only 1 bonus level per person will be awarded, and you will receive the highest bonus level for which you qualify.
Each qualified referral to Ebates earns $5, which is added directly to you Ebates account.
The bonus levels will be added to your account at the conclusion of this promotion.
This referral bonus promotion is open only to individuals who are legal residents of the 50 United States, the District of Columbia, or Puerto Rico and are 18 years of age.
You will be contacted within 20 days of the final qualifying purchase date regarding the delivery of your bonus.
Check out these additional Cash Rebate Shopping Networks for more sign-up bonuses for new account members.
Get your $10 gift card bonus from Ebates if you are a new member, plus earn special referral bonuses for a limited time.
About Ebates
Ebates is a free cash rewards network that offers up to 25% in cash rebates when you shop online at over 1,000 brand-name stores and service providers.
Join Ebates for Free and get a $5 bonus credit or $10 gift card when you make a qualifying purchase of $25 or more earning cash back.
To earn cash rebates from Ebates, you simply visit Ebates.com, browse for your store or service provider, and make your online purchase through your Ebates cash rebate link.
Ebates offers over 1,000 popular brand-name merchants such as Best Buy, OfficeMax, and Walmart as well as many services including travel and entertainment providers.
Ebates also offers access to special savings coupons and promotional discounts in addition to the cash rebates you earn on all of your Ebates purchases.
The Ebates shopping rewards network makes it easy to earn cash rebates for shopping online, plus you'll receive access to special discounts and savings promotions at many brand-name merchants.
More Ebates Opportunities
Ebates In-Store Cash Back – Earn cash back from Ebates for shopping in person at your favorite physical stores.
Earn Ebates Cash Back at Amazon.com – If you shop on Amazon.com, you could be earning extra cash back on qualifying purchases.
AmazonLocal Ebates Rebates – You can also earn cash back on purchases from AmazonLocal.
Redeem Ebates for Amazon Gift Cards – You can now opt to receive your Ebates cash rebate checks as an Amazon.com Gift Card if you prefer.
$5 Ambassador Bonus – Find out how to qualify for the elusive Ebates Ambassador Bonus.
Save more money when shopping online with these Shopping Discount Codes.