ShopAtHome is offering a $10 cash back bonus for new members for a limited time.
Just visit ShopAtHome.com, and you should see the $10 promotional offer being displayed in a popup window that overtakes their website.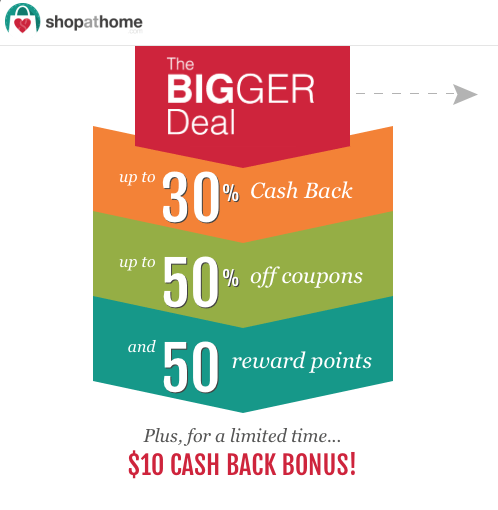 The $10 bonus is for new ShopAtHome.com members only, and it will not apply to new accounts that are created by existing users.
This $10 cash back bonus will apply to your Cash Back Rewards Minimum Amount of $20, and it may take 3 to 5 business days to appear in your account.
About ShopAtHome.com Cash Back Shopping Rebates
ShopAtHome provides you with cash back rebates when you shop online at thousands of popular stores.
Besides the cash back that you earn for simply clicking through links on ShopAtHome.com to shop on your favorite merchant's websites, you'll also get access to various coupons for additional savings.
ShopAtHome even provides grocery coupons for all types of products that can be used at any participating grocery stores.
Members will also get access to the ShopGold loyalty rewards program to earn points toward free gift cards.
ShopAtHome.com Referral Program
Program Expired: The ShopAtHome referral program that offers both new and current members a $5 bonus has ended.
At this time, ShopAtHome has a new referral program that provides ShopGold Rewards toward free online gift cards.
For a short time, you can give friends new to ShopAtHome.com 100 ShopGold Rewards, which can become an online gift card to the web's top stores, just for signing up.
For each new member that you refer who joins via Facebook and makes a qualifying purchase of $25 or more, you will receive 400 ShopGold Rewards.
You can turn those rewards into free online gift cards with a minimum of 500 ShopGold Rewards needed for a gift card.
If you would like to receive a referral to earn 100 ShopGold Rewards through the new ShopAtHome referral program, please feel free to email MaximizingMoney@gmail.com to request a referral.
Old ShopAtHome Referral Program Details Below
ShopAtHome.com is a free cash rebate shopping network that offers a $5 sign-up bonus and a $5 referral reward for each new member that you refer.
Just sign up for the ShopAtHome.com Cash Back Network to earn a $5 bonus when you make your first qualifying purchase.
Once you become a free member, you can refer new members to ShopAtHome.com and receive a $5 referral bonus for each new member that you refer.
For each friend that signs up and makes a qualified purchase in 60 days, you get $5 and they get $5.
ShopAtHome.com allows you to earn cash rebates for shopping online at a huge variety of brand-name retailers.
Get a $5 sign-up bonus when you make your first purchase through the free ShopAtHome.com cash back shopping network, plus earn $5 for each new member that you refer who makes a purchase.
You'll get a check from ShopAtHome.com when your cash back balance reaches $20.
Take advantage of the ShopAtHome cash rebate network to earn cash back when you shop online at popular stores, plus earn a $5 sign-up bonus and $5 referral rewards for each new member that you refer who makes a purchase.
More $5 Bonus Cash Rebate Networks
Mr. Rebates $5 Shopping Network Bonus
Ebates Shopping Cash Back Network $5 Sign-Up Bonus
Take advantage of these cash rebate shopping networks to earn a $5 sign-up bonus plus cash back on all of your online purchases.
Apply for these Cash Rebate Credit Card Deals as well to earn cash rebates on all of your credit card purchases, in addition to the cash back you earn through these shopping rebate networks.
Sign up for the free ShopAtHome.com cash back merchant network to shop online and earn cash rewards.