The American Express Premier Rewards Gold Card will now give you 50,000 bonus points after $2,000 in purchases within the first 3 months, plus the $195 annual fee is waived for the first year.
This Premier Rewards Gold Card welcome bonus offer is not available to applicants who have or have had this product.
Updated 4/26/2017: This 50,000 bonus point offer may be expired already, as the offer stopped appearing for me and now shows the 25,000 point offer, but please check the promotional link, which leads directly to the American Express website, as it still may be working for some users.
You may also consider this American Express Platinum Card Bonus Offer to gain access to even more card member benefits and travel credits.
50K Bonus Points for Premier Rewards Gold Card
To access the deal, just visit this American Express Promotional Link that is directly on the American Express website for the Premier Rewards Gold Card.
You'll earn 50,000 Membership Rewards bonus points after you spend $2,000 on purchases on your new card in your first 3 months of card membership.
The bonus points will be credited to your account within 6 to 8 weeks after you have met the spending requirement.
Qualifying for the 50,000 Bonus Membership Rewards Points
You must charge $2,000 of eligible purchases on the Premier Rewards Gold Card within the first 3 months of card membership to earn the 50,000 points starting from the date your account is approved.
In rare instances, your period to spend $2,000 may be shorter than 3 months if there is a delay in mailing your Card.
Also, purchases may fall outside of the 3 month period in some cases, such as a delay in merchants submitting transactions or if the purchase date differs from the date you made the transaction.
Points will be credited to your program account within 6 to 8 weeks after you have met the spending requirement.
Qualifying purchases can be made by the Basic Card Member and any Additional Card Members on a single card account.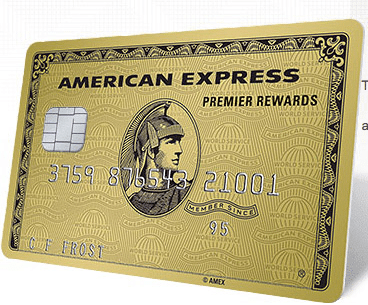 Premier Rewards Gold Card Features
50,000 Bonus Points after $2,000 in purchases within 3 months.
$100 Airline Fee Credit each year toward incidental airline fees.
3X Points for Airfare purchased directly from airlines.
2X Points at U.S. Restaurants, U.S. Gas Stations, and at U.S. Supermarkets.
1X Points on other purchases.
2X Points per $1 spend at participating The Hotel Collection properties.
2X Points at AmexTravel.com.
$75 Hotel Credit to spend on Dining, Spa, and Resort activities with 2-night stays at participating hotel properties.
No Foreign Transaction Fees.
$0 Intro Annual Fee for First Year of Card Membership, then $195.
Premium Roadside Assistance.
Car Rental Loss and Damage Insurance.
Travel Accident Insurance.
Global Assist Hotline.
Entertainment Access to Card Member-Only Events.
Extended Warranty up to 1 Year.
Purchase Protection.
Return Protection.
Dispute Resolution.
Standard 25,000 Points Offer for AMEX Premier Rewards Gold Card
You can visit the American Express Website for the standard 25,000 bonus point offer from the Premier Rewards Gold Card.
You'll need to make $2,000 in purchases within 3 months of opening your account in order to qualify for the 25,000 Membership Rewards points.
At this time, the Premier Rewards Gold Card points bonus that is offered through the American Express Card Referral Program is actually higher than the standard offer, so make sure that you apply through a friend's referral or one of the above referral links in the article to get 30K points instead of 25K points.
Applying for My American Express Premier Rewards Gold Card Bonus
I applied for a prior American Express Premier Rewards Gold Card bonus of 50,000 bonus points via CARDMATCH, where this special offer used to be made available on a semi-regular basis.
I submitted an online application, which only took a few minutes.
American Express indicated that my application was under review, and that I would receive a notification within 1 to 2 weeks.
However, I received an approval email about 5 minutes later, so I was actually approved almost instantly.
My card was delivered 2 days later by UPS, and I activated it immediately.
One nice benefit of getting the AMEX Premier Rewards Gold Card is that my Membership Rewards Express points that I had previously earned with my Blue Card were immediately transferred into regular Membership Rewards points with more flexible redemption options.
That meant my combined points could be redeemed toward some vacation bookings through one of their various travel partners.
There are plenty of ways to Meet Credit Card Spending Requirements in order to earn bonus rewards, so it is pretty easy to spend the entire amount required to earn the bonus on this new card.
This was the first credit card I'd applied for since I had taken advantage of the NFL Extra Points Card $400 Bonus Offer, which has actually been reduced to $100 at this time.
Incognito Mode for AmEx Premier Rewards Gold Card Bonus
From time to time, you can get even bigger new card applicant bonus point offers if you visit the American Express website with your Internet Browser set to incognito mode or private browsing mode.
Generally, when these types of offers are available, you'll only see the special deal being shown if you are not a current or former American Express card member, so not everybody will always have direct access to view the deal.
To use "Private" browsing mode, you must adjust the settings of your Internet Browser to "Private" or "Incognito" browsing mode.
Once you set your Internet browser to "Private" browsing mode, you can then open the American Express website card pages in a new tab or window to view the special offers.
You may have to refresh the page a few times in order to access the deal.
However, these special deals are not always available, so it may simply not be offered if you don't see it being displayed.
You can also visit the American Express Pre-Qualified Offers page from time to time to view special offers that are targeted to you.
This is probably one of the best American Express cards, because you get full access to the Membership Rewards program to transfer points with other airline and hotel rewards programs, plus you get a variety of card member benefits, all for a reasonable annual fee.