The Capital One Venture Rewards Credit Card is offering 40,000 bonus miles when you spend $3,000 on purchases within the first 3 months with no annual fee for the first year.
The 40,000 bonus miles is equal to $400 in travel rewards, and you can redeem your miles for any travel expense.
You'll also earn 2X miles for every $1 that you spend on all of your card purchases with no limitations, and 100 miles is equal to $1 in travel rewards.
There is a $0 introductory annual fee for the first year, and then $59 thereafter.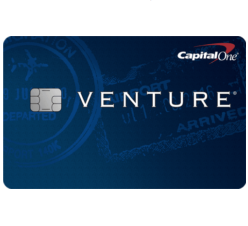 Check out the Venture Rewards Credit Card $400 Bonus for more details.
Capital One will apply your 40,000 bonus miles within 2 billing cycles of qualifying for this bonus.
The 40,000 miles can then be redeemed for up to a $400 statement credit toward any single travel purchase on your Venture Rewards card.
There is also a VentureOne Rewards Card available that offers 1.25 miles per $1 on every purchase, plus 20,000 bonus miles when you spend $1,000 within the first 3 months of account opening, and it has no annual fee.
Venture Rewards Miles Travel Redemption Information
You'll receive $1 in travel credits for every 100 miles that you earn, so your 40,000 bonus miles can be redeemed for $400 in travel credits.
You simply make your travel purchase using your credit card from any website or travel agency, including airline tickets, cruises, hotel rooms, or car rentals.
Then you just redeem your miles directly with Capital One either online or by phone to get reimbursed for your travel purchases.
Your account will be credited for your travel purchases for the amount of miles that you choose to redeem.
You can also redeem your miles for merchandise, charitable donations, or statement credits.
The Venture Rewards travel credit card does have an annual fee of $59, but this fee is waived for the first year, so you could potentially earn your $400 travel bonus reward and cancel this credit card before ever paying your first annual fee.
Things You Should Know About This Rewards Program
How do I earn rewards?
You will earn 2 miles per dollar on net purchases (purchases minus any credits or returns) only. Cash advances, balance transfers, and checks used to access your account are not considered purchases and will not earn rewards.
How does my spend bonus work?
You will earn 40,000 bonus miles if you spend at least $3,000 within 3 months of your rewards membership enrollment date. Once you qualify for this bonus, we will apply it to your rewards balance within two billing cycles.
Will my rewards ever expire?
Your rewards are yours for the life of the account—they will not expire. But if your account is closed, you will lose any rewards you have not redeemed.
Is there a limit to the amount of rewards I can earn?
There is no cap to the amount of rewards you can earn on purchases.
What happens to my rewards if I pay late?
If your account is subject to late payment fees and if a late fee is charged to your account, you will lose any rewards applied to your rewards balance during the billing cycle containing the late fee. Please see the Important Disclosures provided with your offer to determine whether your account is subject to late payment fees.
How do I redeem my rewards for travel?
You have 2 ways to redeem your miles for travel:
1. Redeem for past travel purchases using Purchase Eraser
Simply book your travel through your favorite travel website, travel agent, or other travel resource using your No Hassle Rewards card. Then, go online at capitalone.com or call our Rewards Center to use our Purchase Eraser feature to redeem your miles and receive an account credit for the cost of your travel purchase.
Purchase Eraser redemptions must be made within 90 days from the date your travel purchase posts to your account. Your account credit will be applied to your balance within 5 to 7 business days after the redemption. You must have the total amount of miles required in order to redeem for your selected travel purchase—partial redemptions will not be processed.
2. Book new travel, powered by Travelocity
Go online to capitalone.com or contact our Rewards Center to book your flight, car rental or hotel and use your miles to pay for your travel.
The number of miles needed for travel redemption varies and is based upon the cost of the travel purchase.
Here is how it works:
Simply multiply the cost of your travel purchase by 100. For example, if your travel purchase costs $200, you would multiply that by 100 to determine you need 20,000 miles to redeem.
If your travel transaction includes taxes, surcharges, and fees, these expenses will be included in the overall calculation to determine how many miles are required for redemption. Separately itemized travel transactions on your statement cannot be combined for a single redemption. Please note that Capital One has no control over how merchants itemize and charge related transactions.
What types of travel purchases are eligible for Purchase Eraser for Previous Travel?
Purchases made from airlines, hotels, rail lines, car rental agencies, limousine services, bus lines, cruise lines, taxi cabs, travel agents and time shares are generally considered to be travel purchases and availability for redemption is based on the merchant category code assigned to them by the merchant. Capital One is not responsible for how merchants assign these codes.
Can I redeem my rewards for something other than travel?
You can also redeem your miles for cash, gift cards, brand-name merchandise, and more. Rates for these other redemption options vary and are subject to change without notice. As an Accountholder, you can visit capitalone.com to register your account and see a complete description of current redemption offers.
Is my account eligible to transfer rewards?
Your account may be eligible to transfer rewards. Please be aware that transfers are only permitted between certain Capital One No Hassle Rewards accounts. Not all rewards products are eligible for transfer.
Take advantage of this credit card bonus offer from Capital One to earn a $400 statement credit with your new Venture Rewards Credit Card.