Bumped gives you fractional shares of free stock when you spend money at your favorite brands, so that you can own the brands that you support as a customer.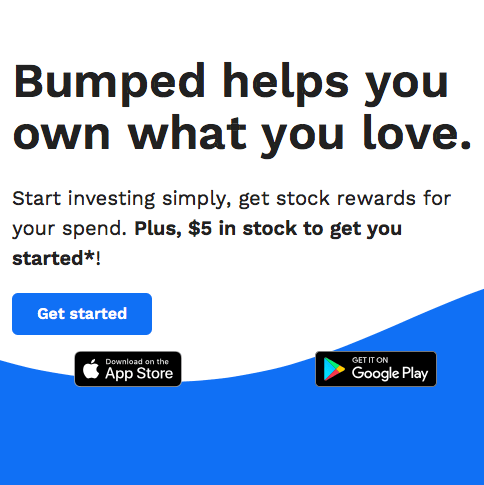 Plus, you will get a $5 Bumped Sign-Up Bonus when you are approved for your new Bumped brokerage account, and the $5 reward will be given in your chosen stock picks.
When you link your cards with Bumped, you will get company stock as a reward just for shopping in stores and online with the brands that you already love.
For example, with the Starbucks stock rewards of 2.5% back in SBUX, if you spend $10 at a Starbucks restaurant, you would receive $0.25 worth of SBUX stock (amounts vary).
All of the free stocks are automatically added to your Bumped Financial brokerage account in fractional shares.
There are no fees to use the Bumped service or your Bumped Financial brokerage account, so this is an absolutely free way to earn stock for your spending.
To get started, simply sign up on their website or download the Bumped App and create a free account to start earning free stocks for your spending at participating brands.
Bumped $5 Sign-Up Bonus
For a limited time, all new user will receive a $5 Bumped Stock Bonus when you are approved for your Bumped brokerage account.
Once your Bumped brokerage account is approved, you will be given the $5 reward in your own stock picks.
This offer is only available to new Bumped users who are approved for a brokerage account.
You can see this $5 Bumped account opening bonus displayed on the Bumped website homepage at Bumped.com, and it is openly available regardless of whether you sign up through a referral link.
How Bumped Works
1. Link your debit cards and credit cards with your Bumped account.
2. Spend using your linked cards at your favorite participating brands.
3. Receive free fractional shares of stock in those companies or your chosen stock picks based on the amount of spending.
Bumped Financial Brokerage Account
All of the fractional stock shares that you receive for shopping with Bumped will be held in your Bumped Financial brokerage account.
There are no account fees, no maintenance fees, no trading fees, no commissions, no account closure fees, no outgoing automated customer account transfer fees, no ACH transfer fees, and no other fees.
Bumped Referral Program – $5 Bonuses
Once your Bumped brokerage account is approved, you will receive access to your own referral link that you can share with your friends.
When your referrals open a new Bumped brokerage account through your unique link, you will get $5 worth of the stock picks that you choose.
If you share Bumped with your friends via social media, you will get $5 worth of the social media stock that you used to share, like $5 of Facebook, $5 of LinkedIn, or $5 of Twitter.
There is no limit to how many stock referral rewards you can earn for sharing Bumped with your friends.
Bumped $10 Bonus for Waitlist Members – Targeted
While the $5 sign-up bonus is only available for new Bumped users, if you signed up during the Bumped waitlist period, you may have received a flyer in the mail for a $10 bonus offer.
As a Bumped waitlist member, I received this flyer for a $10 free stock bonus when you set up your Loyalty Rewards and get your first fractional stock reward by October 31, 2021.
The $10 reward will be provided in your stock picks and is available for Bumped users with an active account in good standing who receive your first stock reward by October 31, 2021.
I'm not positive if this offer was mailed out to all Bumped waitlist members who have not yet received your first stock reward, but check your mail for this flyer, and you may also be able to qualify.
Sign up for Bumped to get paid in fractional stock shares for spending money at the brands you love.