FundersClub lets you invest in the best new startups to diversify your portfolio with insider access to highly vetted companies.
Plus, when you sign up via this $100 FundersClub Bonus Credit Link, you will get $100 of free credit to invest on FundersClub.
Please note that you must be an accredited investor to invest in FundersClub (i.e., have an annual income of $200,000, or $300,000 for joint income, or have a net worth exceeding $1 million, either individually or jointly with spouse).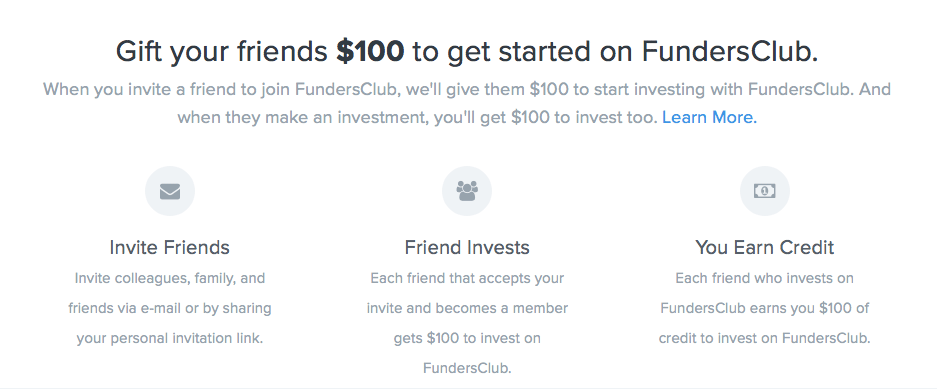 About FundersClub Startup Investments
FundersClub allows you to diversify your portfolio with access to top startup investment opportunities.
FundersClub discovers, funds, and supports the world's most promising startups, and less than 2% of the startups that undergo their review process will ultimately be made available for investment on FundersClub.
FundersClub strives to provide low investment minimums starting for as little $3,000, so that you can diversify your portfolio with multiple startups.
You can choose between 2 different investment options:
1. Single-Company Funds: Allow you to invest in a specific top startup.
2. Multi-Company Funds: Allow you to invest in multiple (typically 10-15) top startups that match a specific investing thesis.
After investing in a startup, you can keep up to date with news, updates, and portfolio analysis features through the FundersClub platform.
$100 Free Credit for First FundersClub Investment
Just sign up through this $100 FundersClub Referral Link to get a free $100 credit to start investing with FundersClub.
This offer is for new FundersClub investors only to use toward your first investment.
Remember that there are investment minimums starting as low as $3,000, so you can't simply just invest $100 in a startup for free, but the $100 credit will be applied to your total investment amount.
FundersClub Investor Referral Program
Once you create a free FundersClub account, you can participate in the FundersClub Investor Referral Program to share FundersClub opportunities with your friends, family, and colleagues.
When you invite a friend to join, FundersClub will give them $100 to start investing with FundersClub.
When your FundersClub referrals make an investment, you'll get an extra $100 bonus credit to invest in FundersClub as well.
You can invite colleagues, family, and friends via email or by sharing your personal invitation link.
Each friend that accepts your invite and becomes a member gets $100 to invest on FundersClub.
Each friend who invests on FundersClub earns you $100 of credit to invest on FundersClub.
Please note that your earned referral credits will expire if not used within 3 years.
Please feel free to share your FundersClub referral links as well as your experiences with investing in startups on FundersClub in the comments below this article.
If you know of any entrepreneurs with startups of their own, you can also participate in the FundersClub Company Referral Program to earn additional rewards for referring new startups to FundersClub.