JM Bullion is a trusted online source for investing in physical bullion if you are looking to buy gold, silver, platinum, and other precious metals.
Plus, you can get started investing in precious metals with the JM Bullion Starter Pack that allows you to buy 10 ounces of silver rounds at the current spot price with free shipping included.
Usually, when you buy silver bullion, you'll have to pay a premium or mark-up over the actual spot price (current market price), which can run anywhere from $0.50 to $1 or more per ounce, depending on where you buy your silver and the type of silver product that you are purchasing, but this special deal from JM Bullion allows you to avoid that mark-up with the opportunity to purchase silver at the current spot price with no premium.

How To Get Silver at Spot Price from JM Bullion
You can buy 10 ounces of silver at spot price with the JM Bullion Starter Pack including free shipping on your order.
You'll receive a 10 oz tube of silver rounds from a trusted American mint at spot price with free shipping.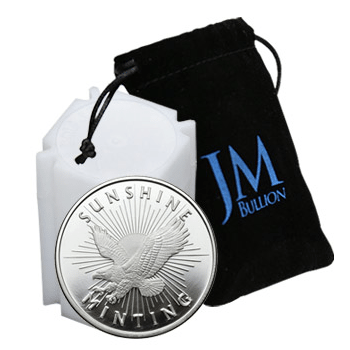 JM Bullion Starter Pack Details
New 10 oz Tube of Silver Rounds from Trusted American Mint.
Offered at Current Spot Price when Paid by Wire Transfer, Check, or Bitcoin (additional charge for Credit Card and PayPal payments).
Each Order includes Ten 1 oz .999 Silver Rounds in Special 10-Round Tube, Encased in a Velvet Pouch.
All Orders Ship Free with Tracking and Insurance.
Ships within 1 Business Day of Cleared Payment.
Promotion is limited to 10 ounces of Silver at Spot Price, regardless of product.
Customers can only redeem the promotion once for a maximum of 10 ounces of silver total.
Limited to 1 purchase per account, per household/shipping address, and per billing method.
You can only make 1 purchase at spot price forever, regardless of product changes.
This is a limited-time offer that may end at any time.
This is an awesome deal for small investors or bullion enthusiasts who want to get started in precious metals or add to your portfolio.
Take advantage of the JM Bullion Starter Pack to get 10 ounces of silver rounds at the current spot price.
You may also be interested in this offer to get Free Gold from Goldmoney for an alternative way to invest in precious metals.